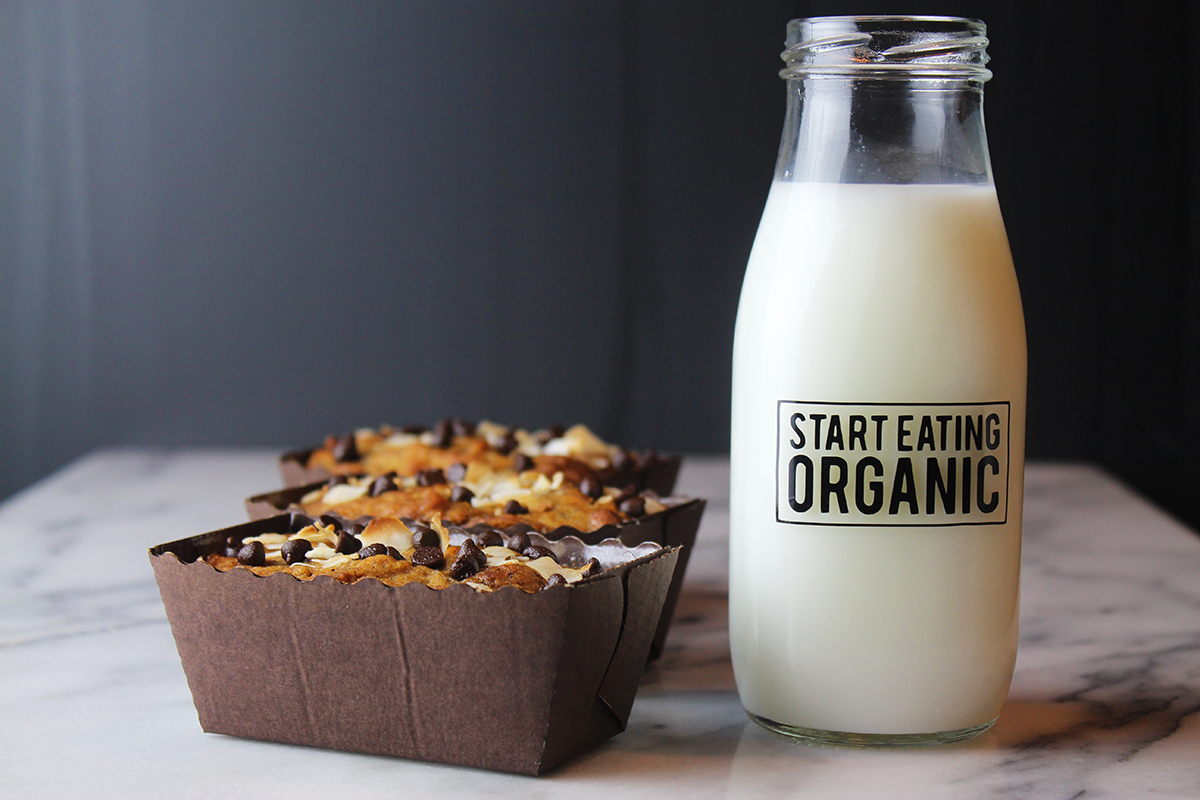 Say it with me now, nanananananaaaa banana bread. Truth be told, I hate banana flavored things. I love bananas on their own, just not in cakes, candy, smoothies etc…but Sam's the opposite. And since he started eating gluten free I try to recreate all his favorite things. So there I was creating a banana bread recipe, that not only had to be gluten free but vegan as well. I have to say, banana bread is way more forgiving than other desserts and after a few tries I had the best gluten free banana bread recipe I could come up with.
Disclaimer:  This post may contain affiliate links, which means I may receive some monetary compensation if you make a purchase via an affiliate link (at no cost to you). Not enough for a pony, but it should help with some ice cream. From more information read my disclosure policy. Thanks for your support!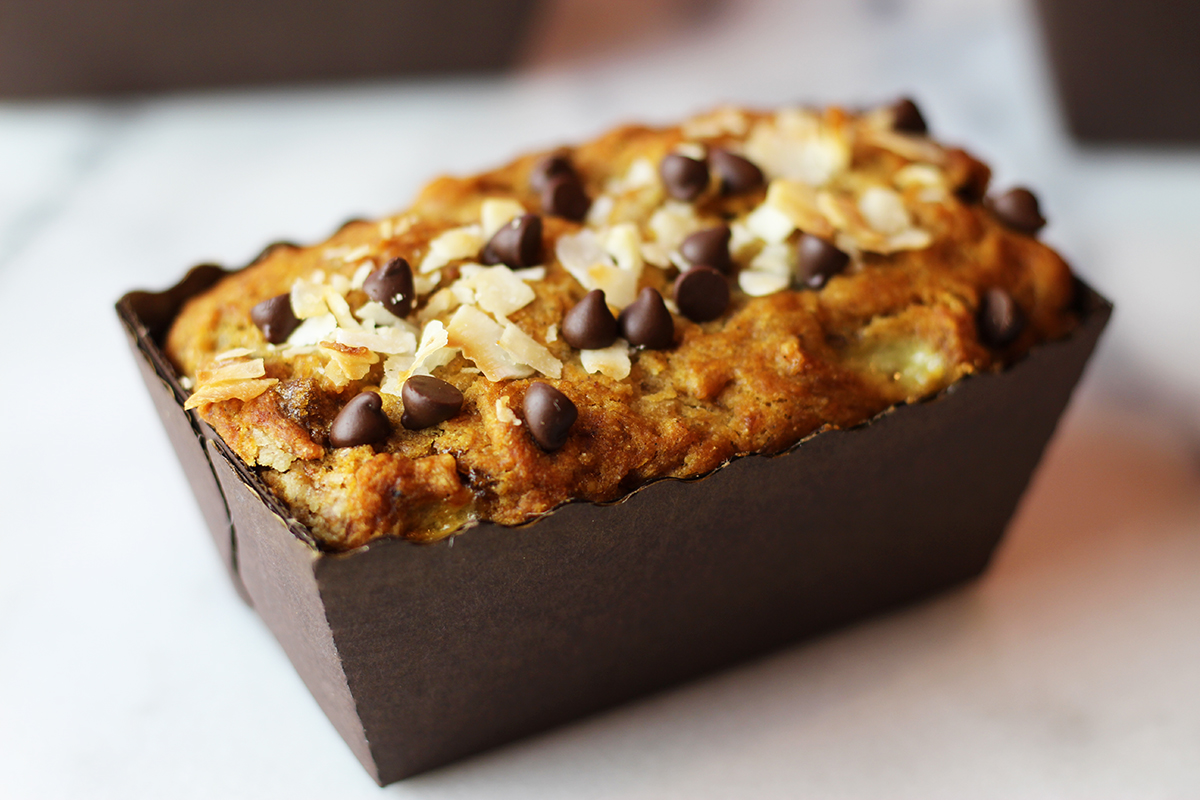 Surprisingly, I even love it. As it bakes, towards the end, the house will smell heavenly, and I found myself constantly going into the kitchen, waiting, impatiently, for the countdown to end. And then comes the painstaking waiting for it to cool, blah blah blah..I went nuts waiting, and it wasn't fully cooled either, but I sliced into it anyways and boy oh boy was it delicious.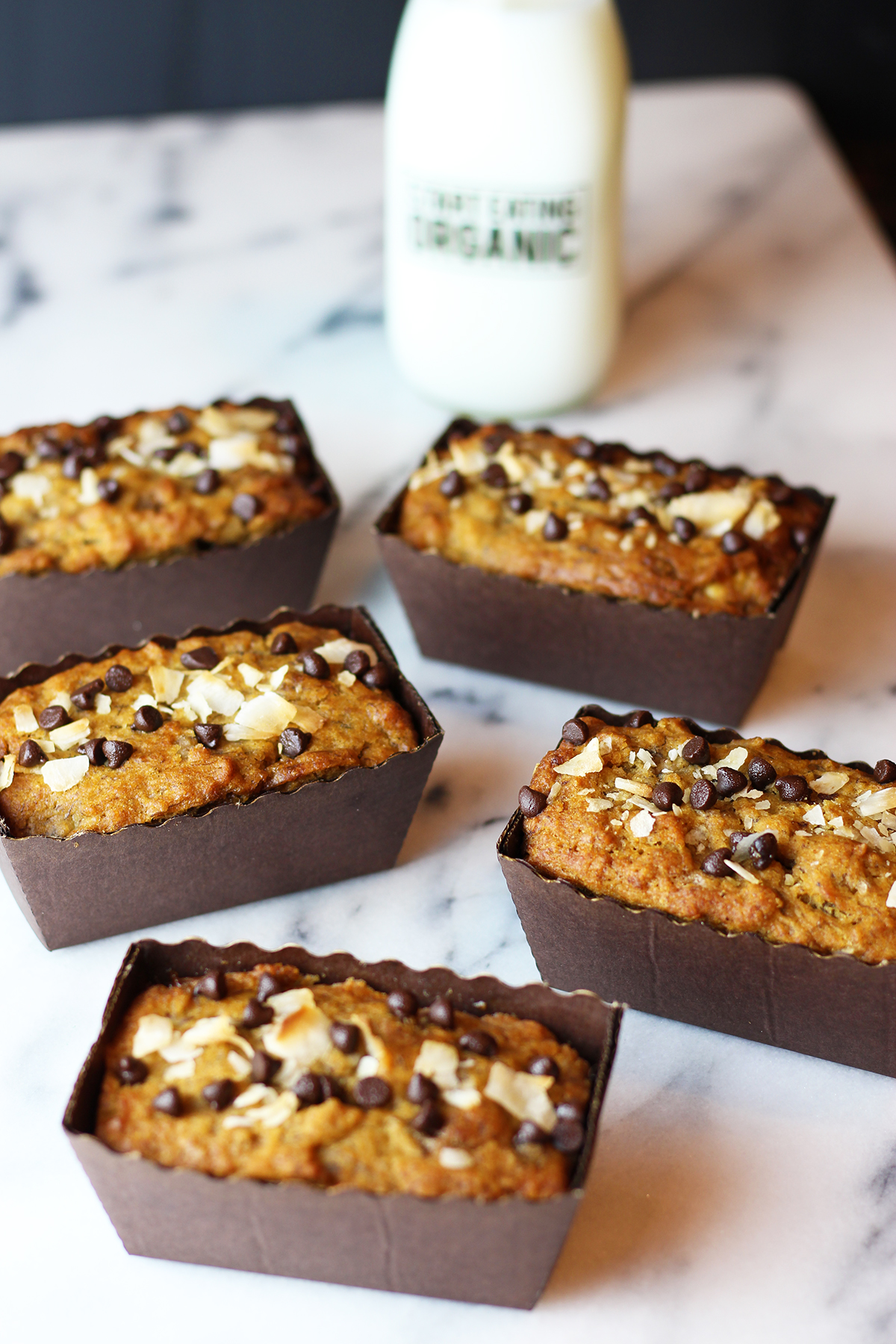 When making the batter, try not to over work it. Mix it with a spatula till everything comes together. Also, I used coconut flakes and vegan chocolate chips, because, no brainer, duh. But I get it if you want to go traditional and sub for walnuts. I just can't stand walnuts so if I was going to do a nut I'd totally do hazelnuts, they are my fav.
Plus, I always find myself with over ripe bananas, and there is nothing worse than eating a mushy banana. This is such a good solution, because the only thing worse than mushy bananas is throwing out food. It bugs me. I hate doing it even when I have to. Side note, did you know bananas have the best "good stuff" for your body when there are black spots on the skin (yes, too many technical terms I know haha).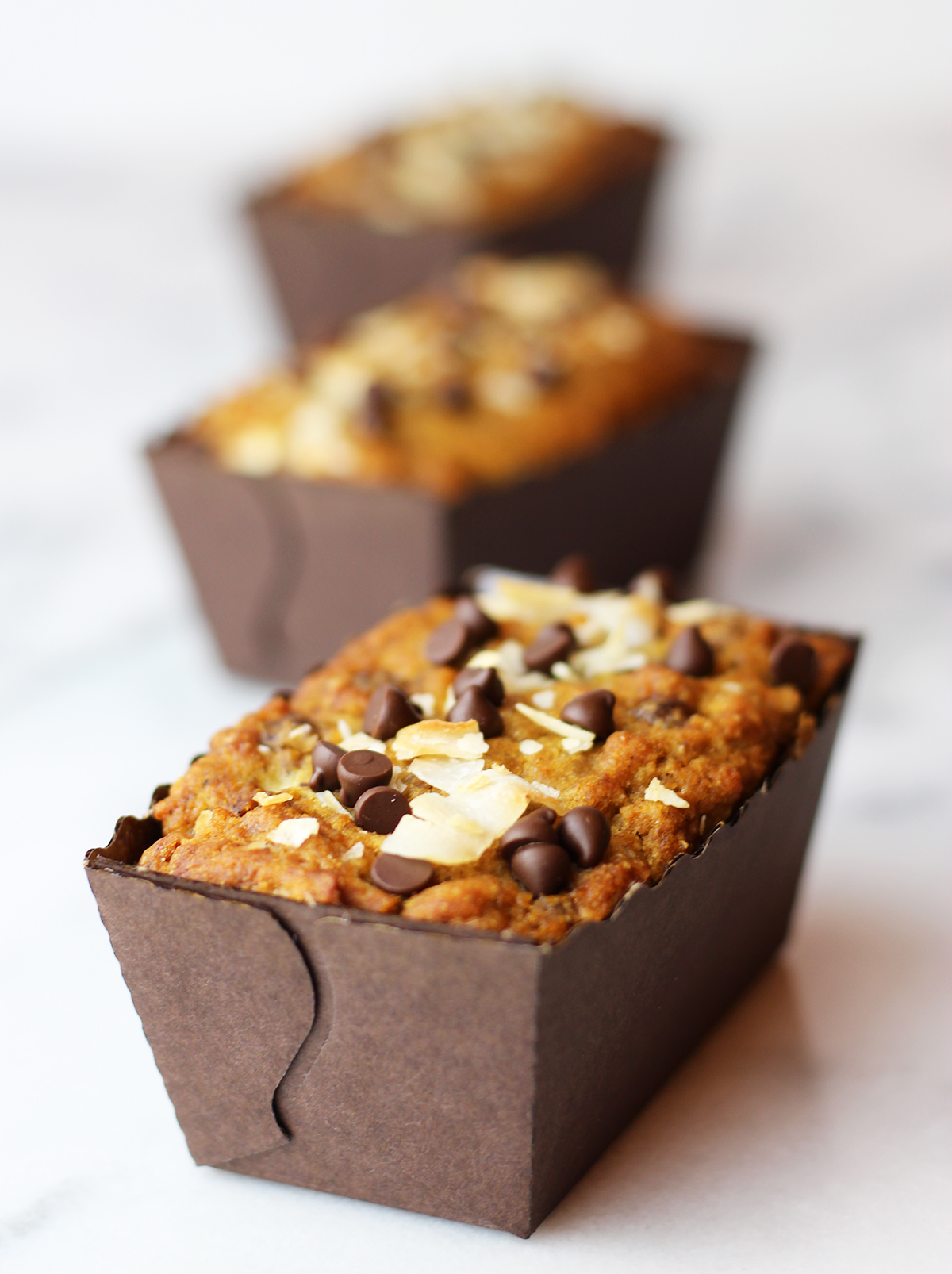 Now seriously, look at that crispy coconut, and scattered chocolate chips. It's like they beckon you to touch in, and they stare at me daily, and I just can't help devouring the loaf slice by slice. I allow Sam to have one here and there.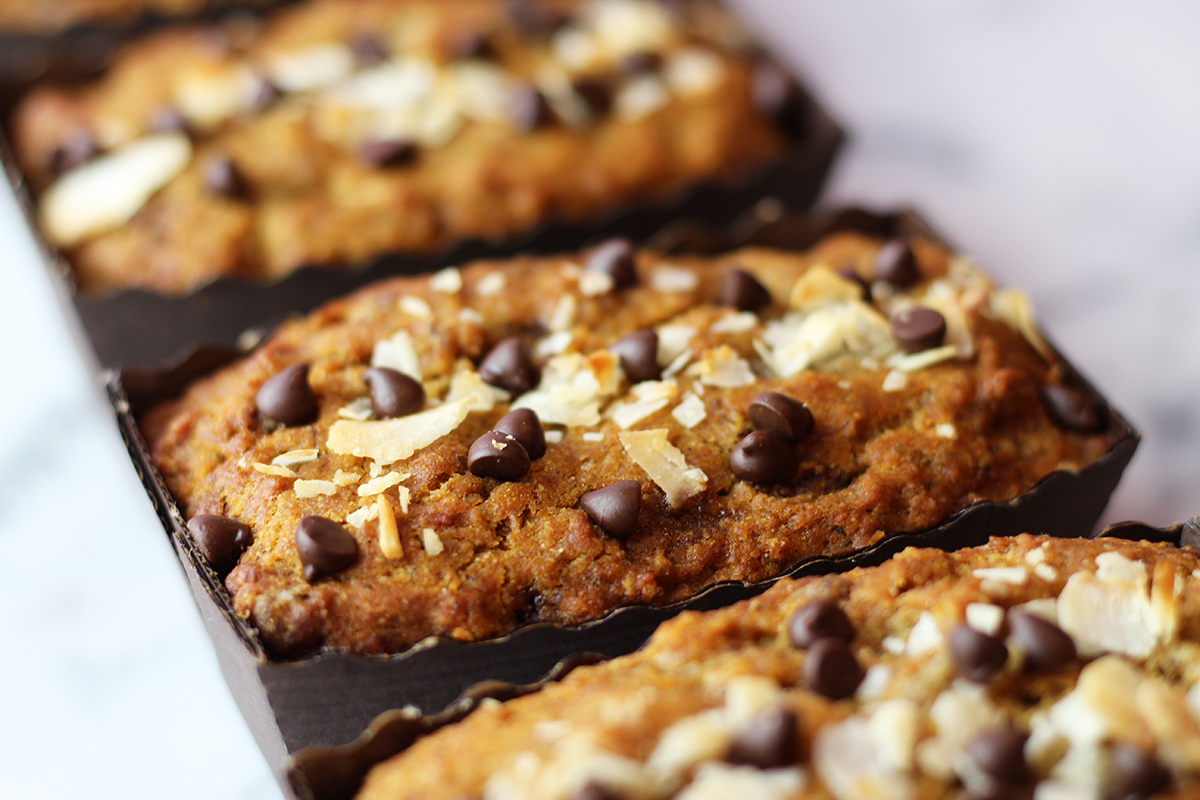 Oh I almost forgot about the slices! Look at that cross section below. So much caramelized bananas (hence the banana chunks), chocolate chips and yummy molasses color from the brown sugar, the nice outer crust, so much yum.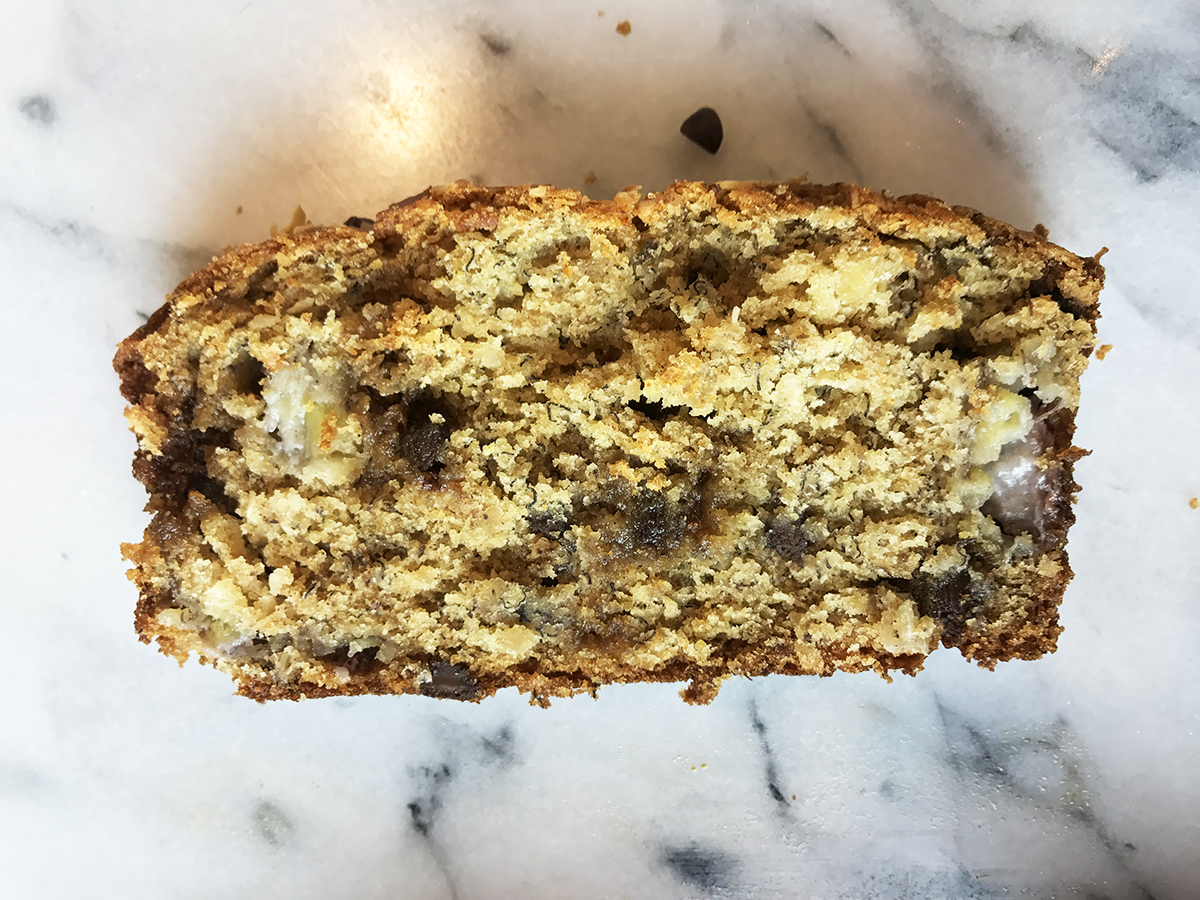 What do you use in your banana bread? Walnuts? Chocolate chips? Nothing? Let me know below…I'd love to try it.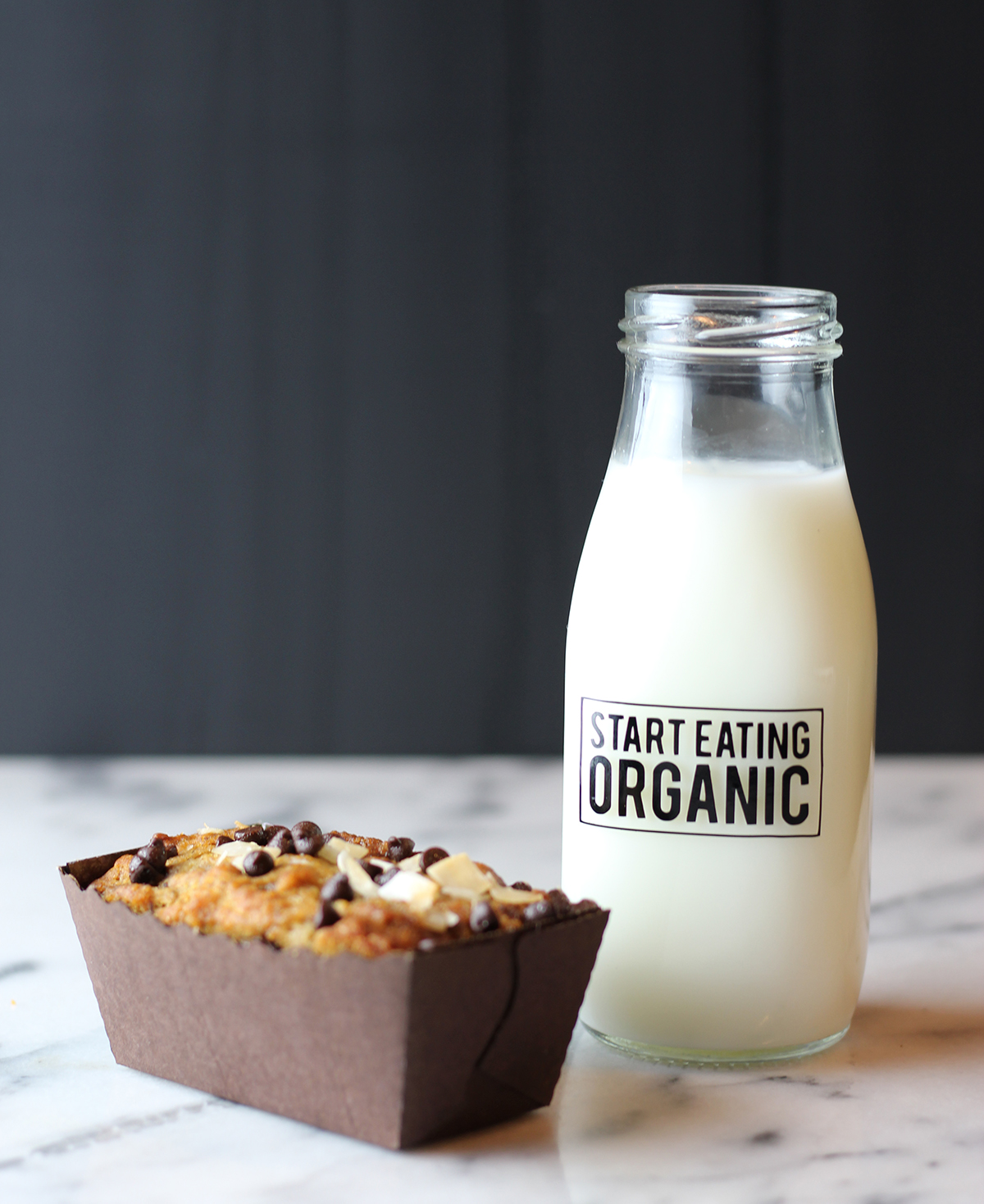 Items Used in This Post:
If you are wondering if I had a custom bottle made, nope! It was a hack 🙂 I got custom vinyl decals made, and I applied it to a bottle I already had. Pretty cool, right? 😀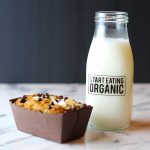 Vegan Gluten Free Banana Bread
Print
Ingredients
Dry Ingredients
2

cups

flour

gluten free

1

tsp

baking soda

1/4

tsp

salt

1/2

cup

brown sugar

1/4

cup

white sugar

1/2

tsp

nutmeg

1/2

tsp

cinammon

1

tsp

baking powder
Wet Ingredients
1/2

cup

oil

1

tsp

vanilla

2

flax eggs

2 tbsp ground flax seed + 3 tbsp hot water, mix and let stand for 5 min

2

cups

chunky mashed bananas

3-4 bananas
Other
1

tbsp

vegan butter

for the pan

1/4

cup

shredded coconut

optional

1/2

cup

choco chips

optional
Instructions
Preheat the oven to 350 degrees Farenheit

Add all the dry ingredients in a bowl, mix. Optional: Add the chocolate chips and shredded coconut in this step.

Add all the wet ingredients. Mix gently with a spatula. Don't overwork the mixture.

Rub the pan with the butter, and poor the mixture in the pan. Optional: Sprinkle some coconut and chocolate chips down the middle.

Bake it for 50 minutes. When done, pull it out and let it cool for 10 minutes. Once cooled, remove it and place on a cooling rack.
Recipe Notes
The cook time is for if you are using a bread pan. If you use the mini loaf pans, bake time needs to be brought down to 30 min.
A "flax egg" is a vegan substitution for a chicken egg. To create one take 1 tablespoon ground flax seed and add 1.5 tablespoons hot water, and let it sit for 5 minutes.
Use bananas that have black spots on it and are soft for best results. I mush them roughly, and like chunks of banana in it.
Make sure to distribute the brown sugar well in the mix. If your brown sugar is a little hard, you can warm it up in the microwave to soften it.
I used coconut and chocolate chips but you don't have to. You can substitute any nuts instead, I know walnuts are popular.
I used Bob's Red Mill gluten free flour mix.
If you are not vegan you can sub the 2 flax eggs for 2 chicken eggs.