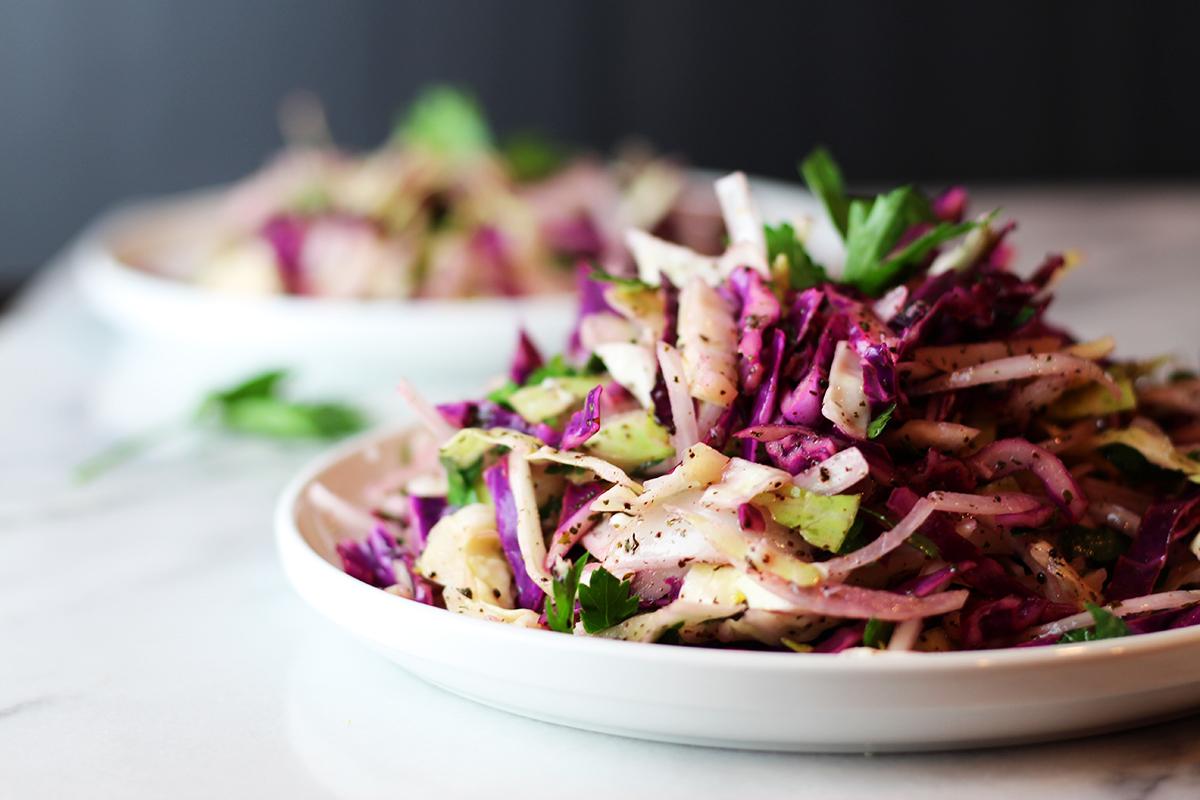 Cabbage salad is one of our go to favorite salads and we eat it almost weekly. A local middle eastern restaurant makes it and i'm not lying, we order it to go on occasion all by itself just to have it on hand. I figured I could easily re-create it and I did (minus tomato), and it disappears any time I make it. This is a super easy cabbage salad recipe. Truth be told the prep is the "hard" part.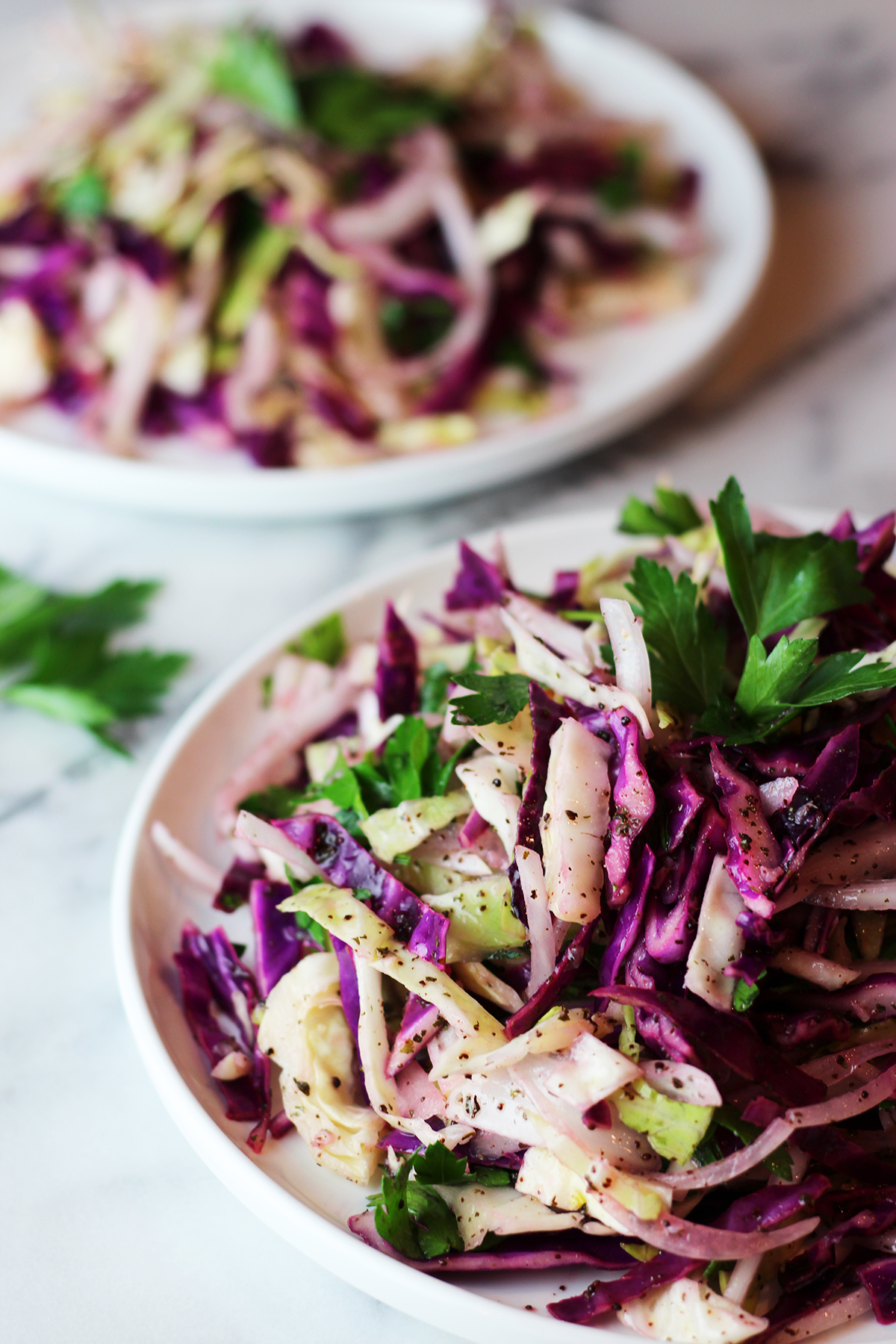 The best part? Unlike other salads it doesn't get soggy and stays delicious for a few days (as long as you store it in glassware). It is super lemony and garlicky and I have no idea why it is so addicting. We can't stop eating it and fill up on it often. I'll even have some ready to ease my late night hunger, because you know you really want something like chips at night but will regret it the next morning.
What also makes it lemony is the sumac. Sumac is a sour spice that has a purplish red color. It's absolutely delicious, even on roasted veggies, chicken, mushrooms etc…if you don't have it part of your cabinet I definitely recommend getting some. If you don't have a middle eastern store next to you, you can find some at Maureen Abood's Market. For the mint, I usually make my own, but you can readily find it at any store.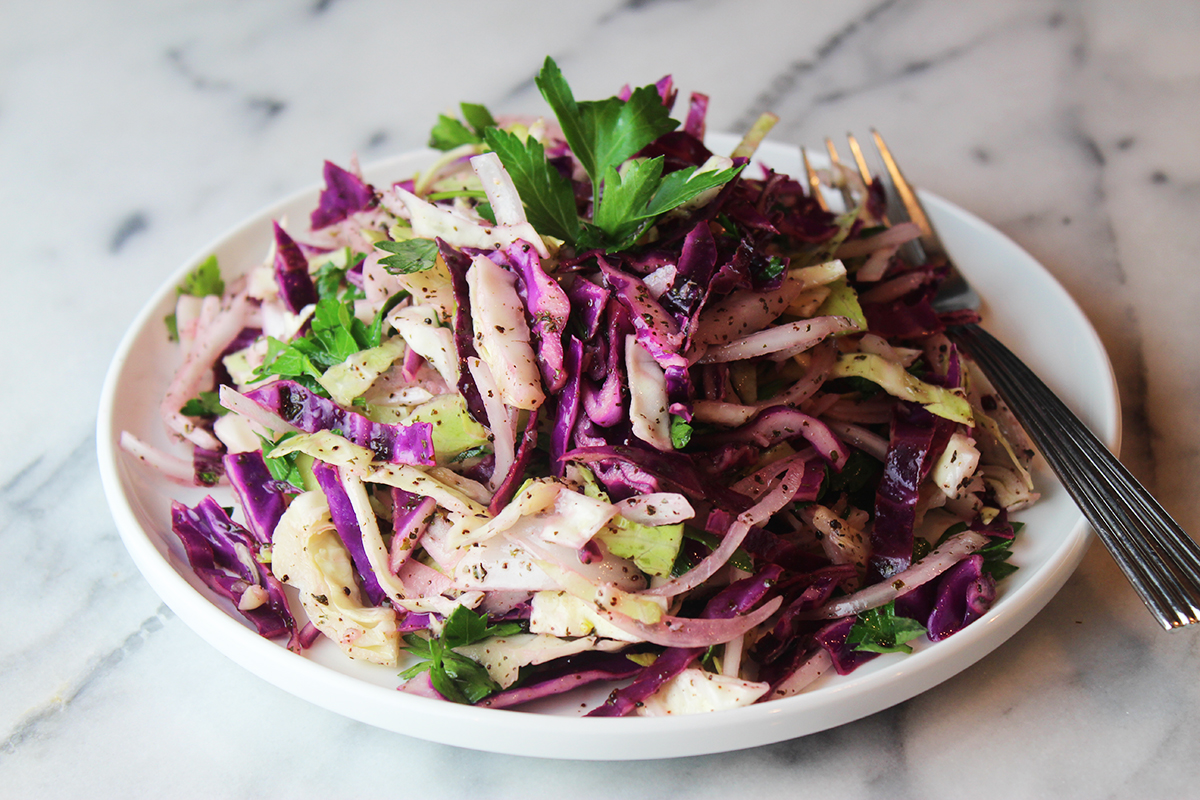 This salad recipe is so healthy and full of cancer fighting properties. Cabbage is an important cruciferous vegetable that is amazing for your digestive track, helps you stay fuller longer, is low in calories, and while purple cabbage has more Vitamin A than green cabbage, one cup of either will give you 4% of your daily intake for 8 vitamins and minerals. So, this usually ignored vegetable should really be part of your weekly rotation.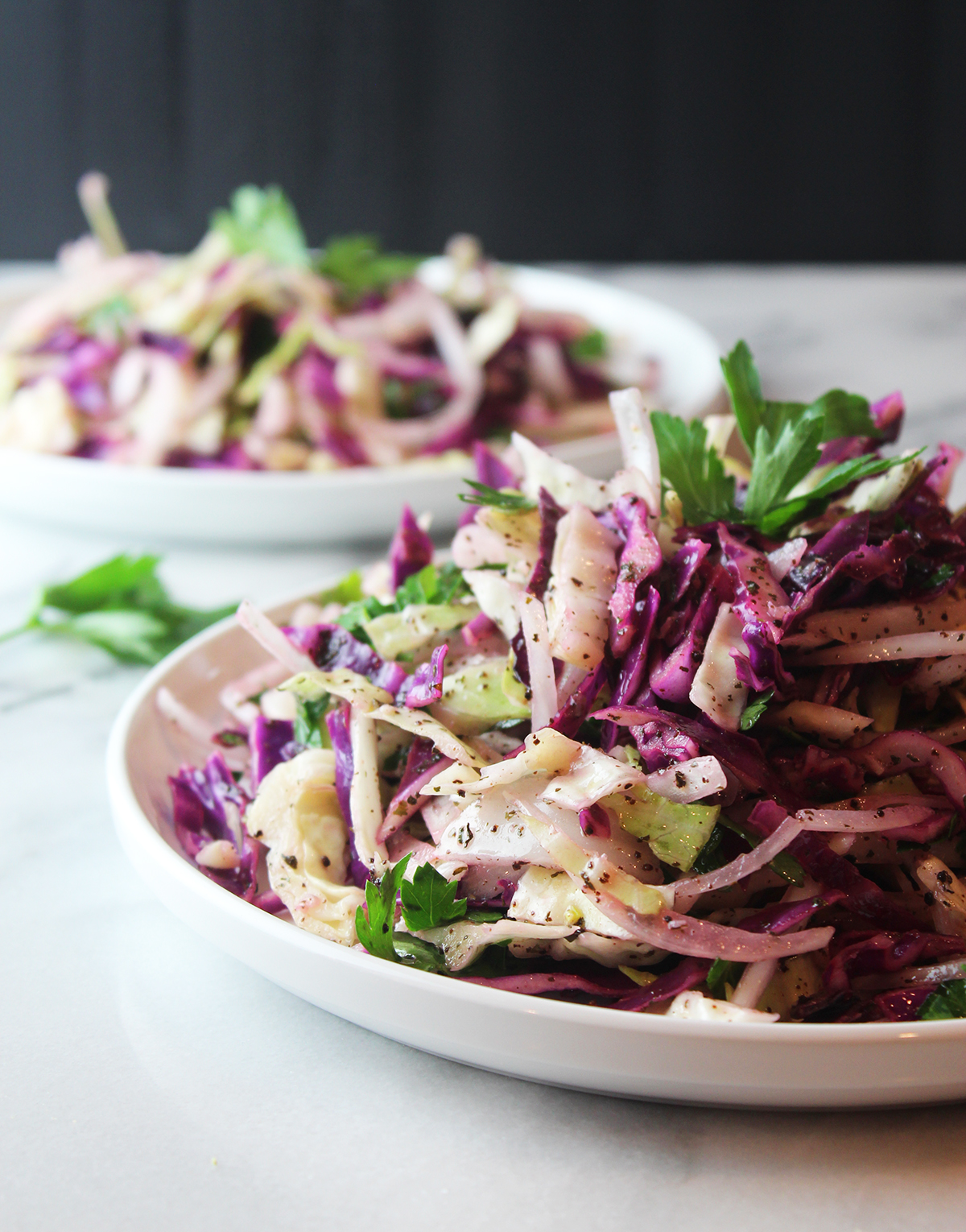 So please guys, don't just stick your cabbage in a pool of mayo. This healthy and refreshing version of coleslaw should be in constant rotation. Plus, I have no doubt that when you take one bite of it you will be just as addicted as we are.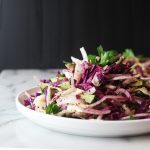 Healthy Cabbage Salad Recipe
Print
Ingredients
Greens
2

cups

green cabbage, shredded

2

cups

purple cabbage, shredded

1

cup

white onion, sliced

1

cup

parsley, roughly chopped
Dressing
2

cloves

garlic, smashed

6

tbsp

fresh lemon juice (2 small lemons)

1

tsp

sumac

1

tsp

dried mint

2

tbsp

olive oil

salt to taste
Instructions
Add all the prepared greens in a bowl and mix well.

In a small bowl, add the smashed garlic then the lemon juice. Mix. Then, add the sumac, mint and salt. Mix.

At the end add the olive oil and mix it all well.

Pour the dressing over the greens and using tongs mix the salad till everything is distributed well.
Recipe Notes
The salad is delicious right away, but I recommend letting it sit in the fridge for half an hour so all the flavors come together.
This tastes great even a few days later, so I always make extra!
The salad is extra oniony and garlicky, if you have an issue with too much of either, halve the amount of garlic or onion.