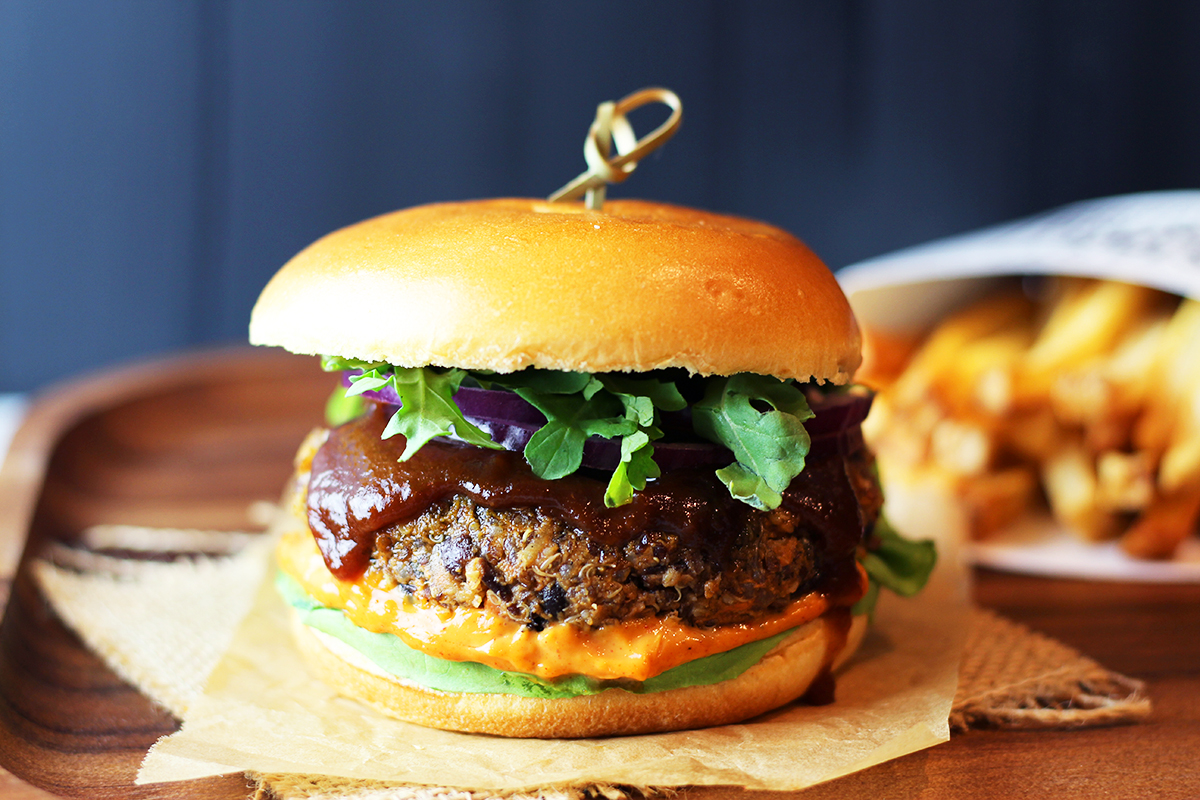 Good veggie burgers are better than meat burgers, yes, I said it. But I'm not talking about the kind that is served as an afterthought on the menu of a restaurant, tastes like cardboard, and contains mostly rice. No, that is not a veggie burger. I'm talking this one, a southwest quinoa bean burger, sweet and peppery, earthy from the cumin, totally crave-able!
Disclaimer:  This post may contain affiliate links, which means I may receive some monetary compensation if you make a purchase via an affiliate link (at no cost to you). Not enough for a pony, but it should help with some ice cream. From more information read my disclosure policy. Thanks for your support!
There is something about this burger patty I can't place my finger on. You get the caramelized crust, the soft sweet center, the spices come through, and you just keep going back for more. I make big batches of it and freeze it in portions. The day before, I just take a packet out and let it defrost in the fridge. Instant dinner.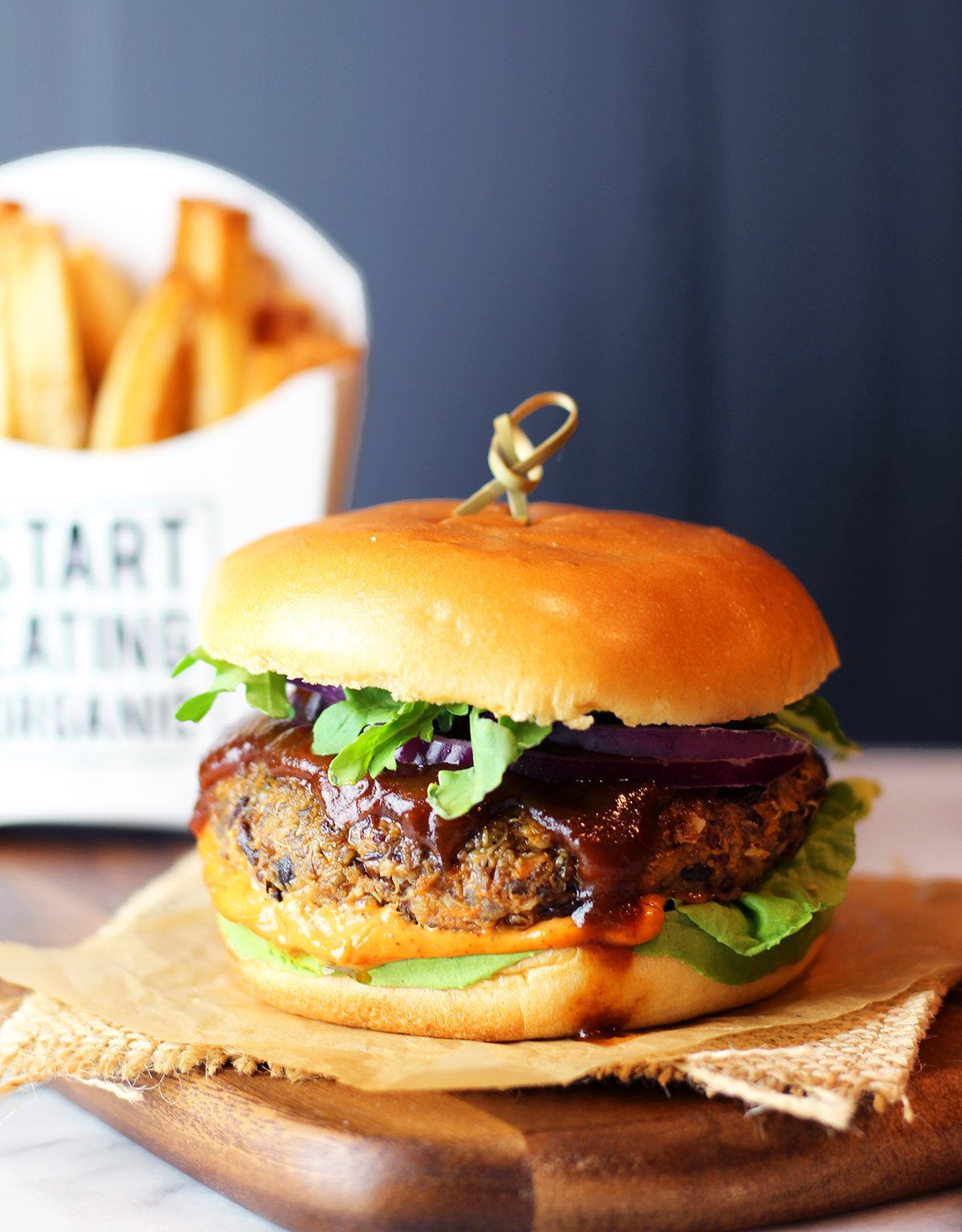 For me the standout ingredient has to be the roasted  sweet potato. It gives a sweetness that contrasts beautifully to the bbq sauce & cumin. This burger wouldn't be the same without the sweetpotato. The black beans add some good protein, and the quinoa gives it all a good texture.
There is so much to love about this. Technically, once the potatoes & quinoa are cooked, the rest is fairly easy to throw together. It never lasts long around here, and I make pretty big batches. I have to say my fav topping has to be bbq sauce & arugula. Some bitterness to contrast the sweetness is always nice. If you like spice, I would definitely add some sriracha or spicy vegannaise, it would definitely go with it.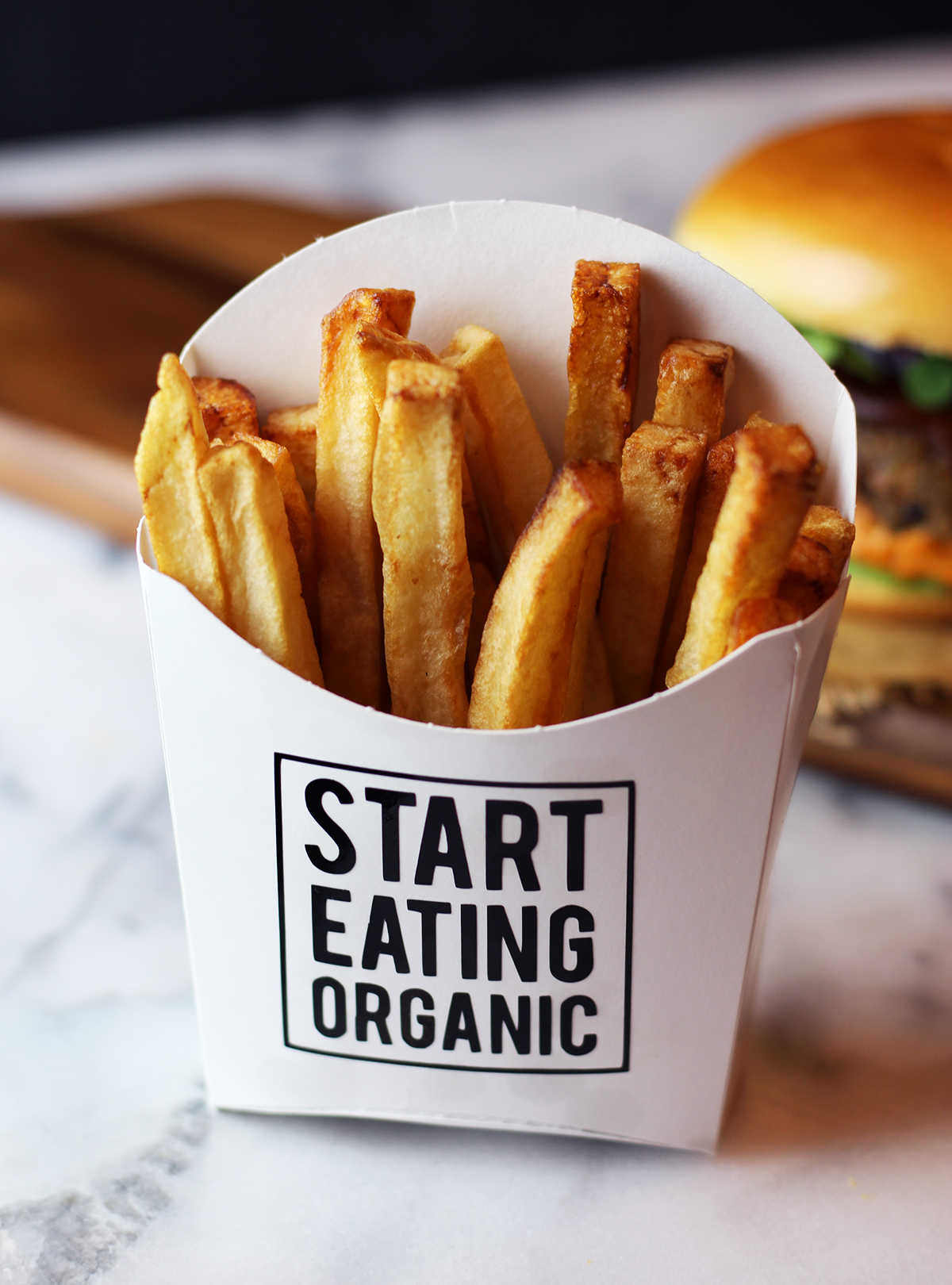 True story. I once made a batch for a friend for her "family". She texted me the next day, that she had finished the whole batch BY HERSELF. Ha! She didn't even share. Crack I tell you, absolute crack.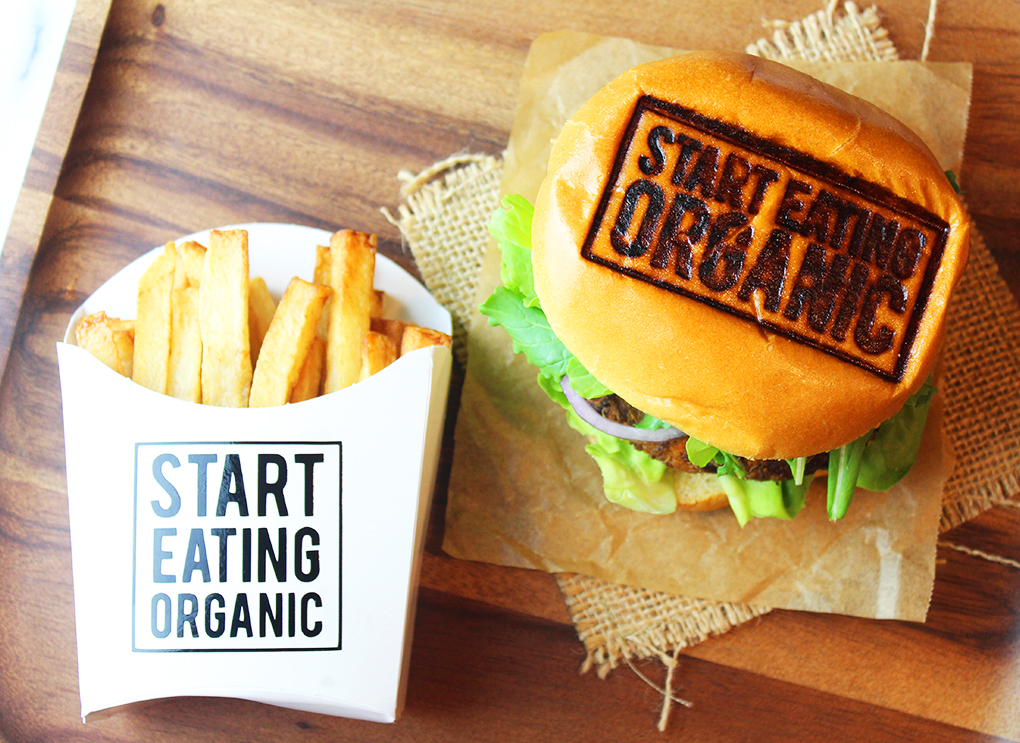 And yes, I went branding galore on these. Don't the fries look so cute in the box!
ITEMS USED IN THIS POST: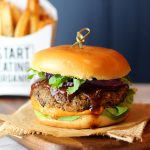 Southwest Bean & Quinoa Burger Recipe
Print
Ingredients
1.5

lbs

sweet potatoes

1/3

cup

uncooked quinoa

1

cup

quick cook oats (gf)

1

can

black beans, rinsed & drained

2.5

teaspoons

cumin

1/2

teaspoon

black pepper

1/2

teaspoon

salt

4

tbsp

avocado oil, divided (or other cooking oil)
For Burger Assembly
sesame buns (gf)

bbq sauce

arugula/lettuce
Instructions
Preheat the oven to 400 degrees.

Cut the sweet potatoes lengthwise, rub with 1 tbsp oil and roast cut side down for 40 min or until tender.

While the potatoes are cooking prepare the quinoa according to the package instructions.

Once the potatoes are done, pull them out of the oven and let them cool. Scoop out the potato from the skin into a bowl.

Other than the cooking oil, put the rest of the ingredients in the bowl with the potatoes and using a big spoon (or your hands) mix it all well.

Add the rest of the oil to a pan, heat. Using your hands, scoop some of the mixture with your hands and form a patty. Pan fry until a crust forms. Flip and do the same (around 3 min each side).

Top with your favorite bbq sauce, arugula (or lettuce) and enjoy in a toasted bun!

Recipe Notes
The patty will be a little soft and sloppy, as is everything good in life. If you prefer a firmer patty, you may add a little gf flour, or maybe crack an egg in the mix if it's your sort of thing (obvs makes it non-vegan).