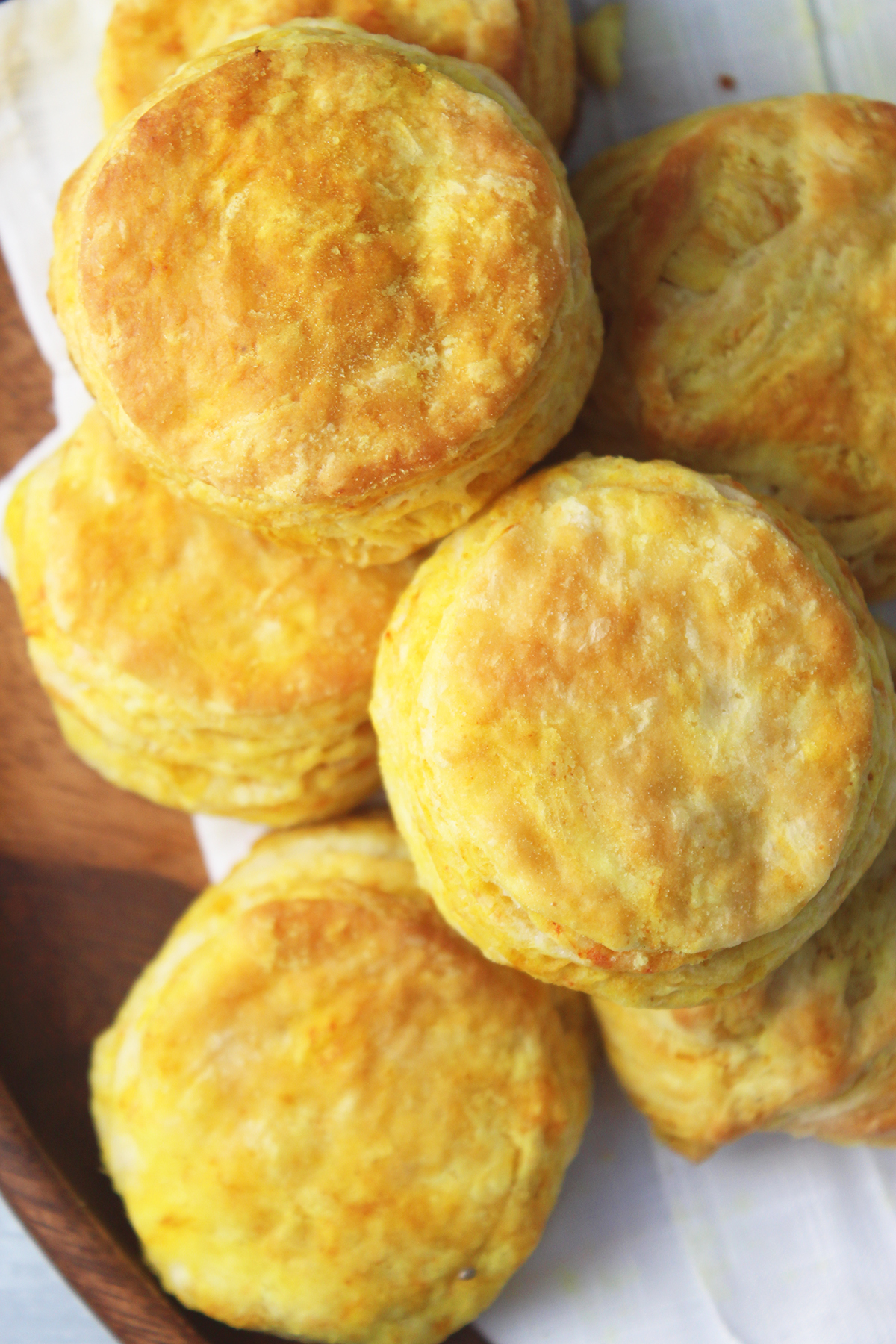 Last year I had an obsession for perfecting my biscuit recipe to make it the best I could! I went through more butter and flour than I care to admit honestly. I started with biscuits that were not as fluffy as I wanted, and I think I got them to a good place. I'm not a baker by nature, but if you've been following along you know I am a bread addict (my mom yells at me all the time, hi mom!). I mean, sandwiches are life, right? Anyways, so once I finally got my easy biscuit recipe in place, I started messing around with flavors.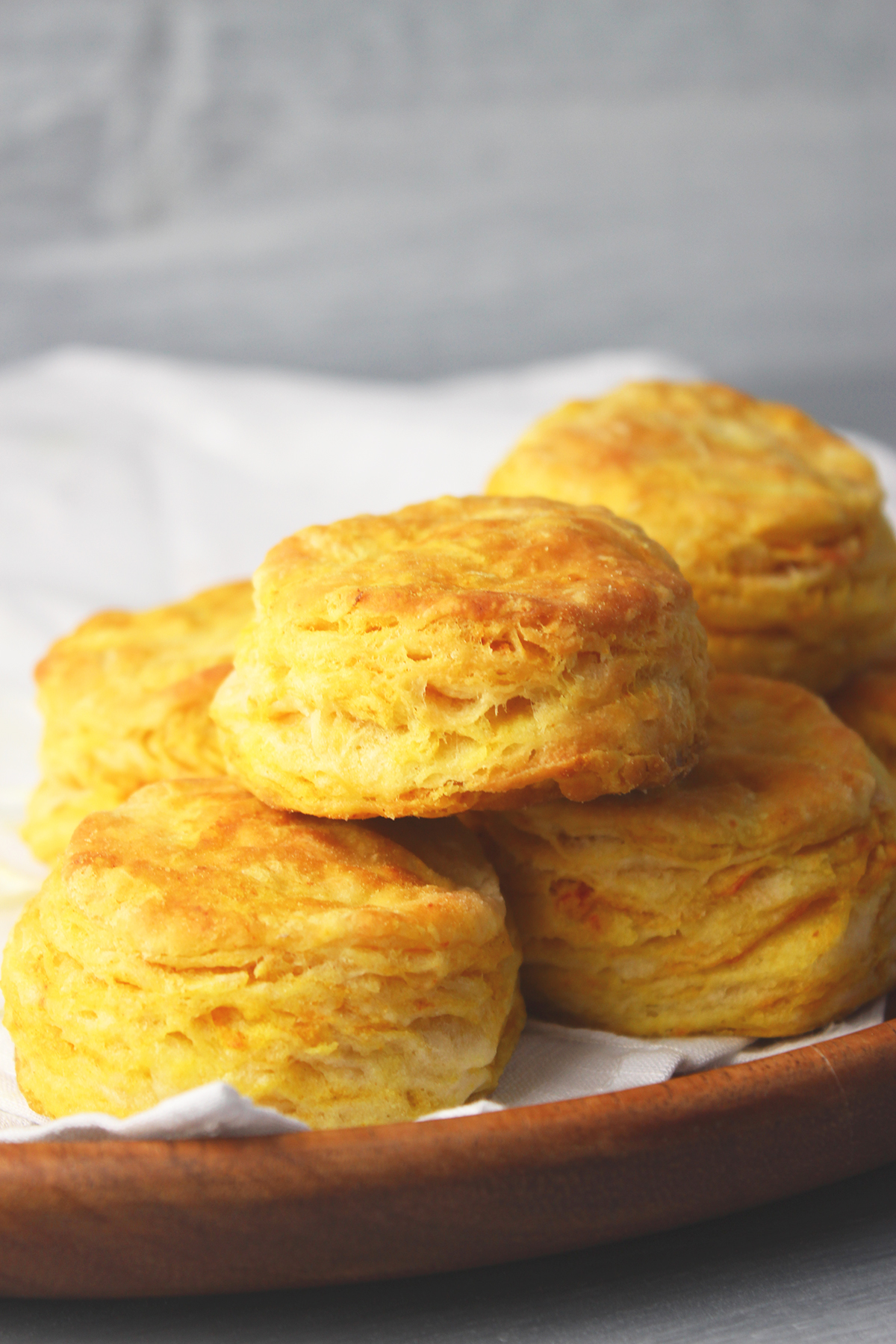 I tried adding zaatar, black pepper, ginger etc…but the one that really stood out to me and that I absolutely loved was the addition of turmeric. The end result is reminiscent of a Lebanese cake called Sfouf (think pound cake with a turmeric & tahini flavor). So, these biscuits are like the bastard child of Sfouf & biscuits sitting in a tree…yep, I went there.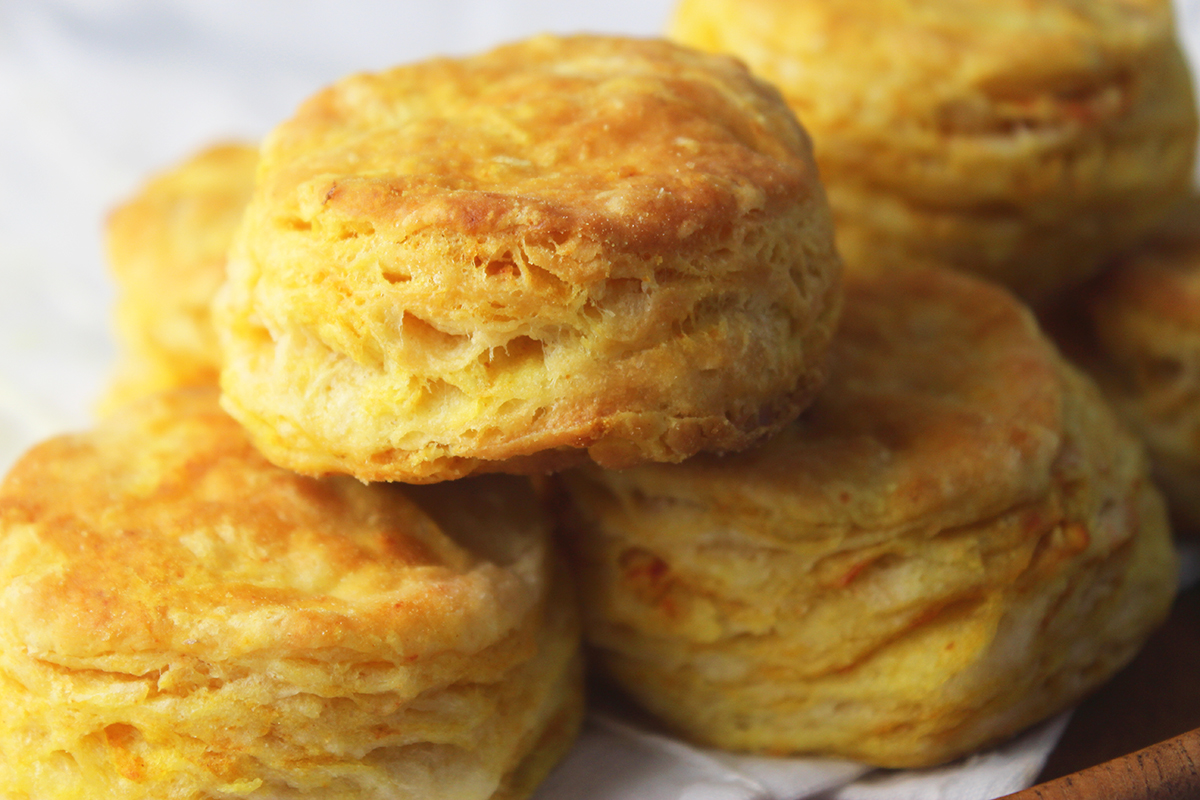 What I learned during my research (because come on, it's not like I am the biscuit inventor, and baking is hard guys), is it is more what you don't do than what you do. You don't want to overwork the dough, you don't want the butter to be soft, you don't want to twist the baking cutter (you will seal the edges that prevent rising). Don't place them apart in the baking sheet like you would cookies, these babies like to touch each other (*ahem, what?). You don't want to take it too seriously. You may mess it up in the beginning, it's ok, try again. Hopefully with all my tips, you won't!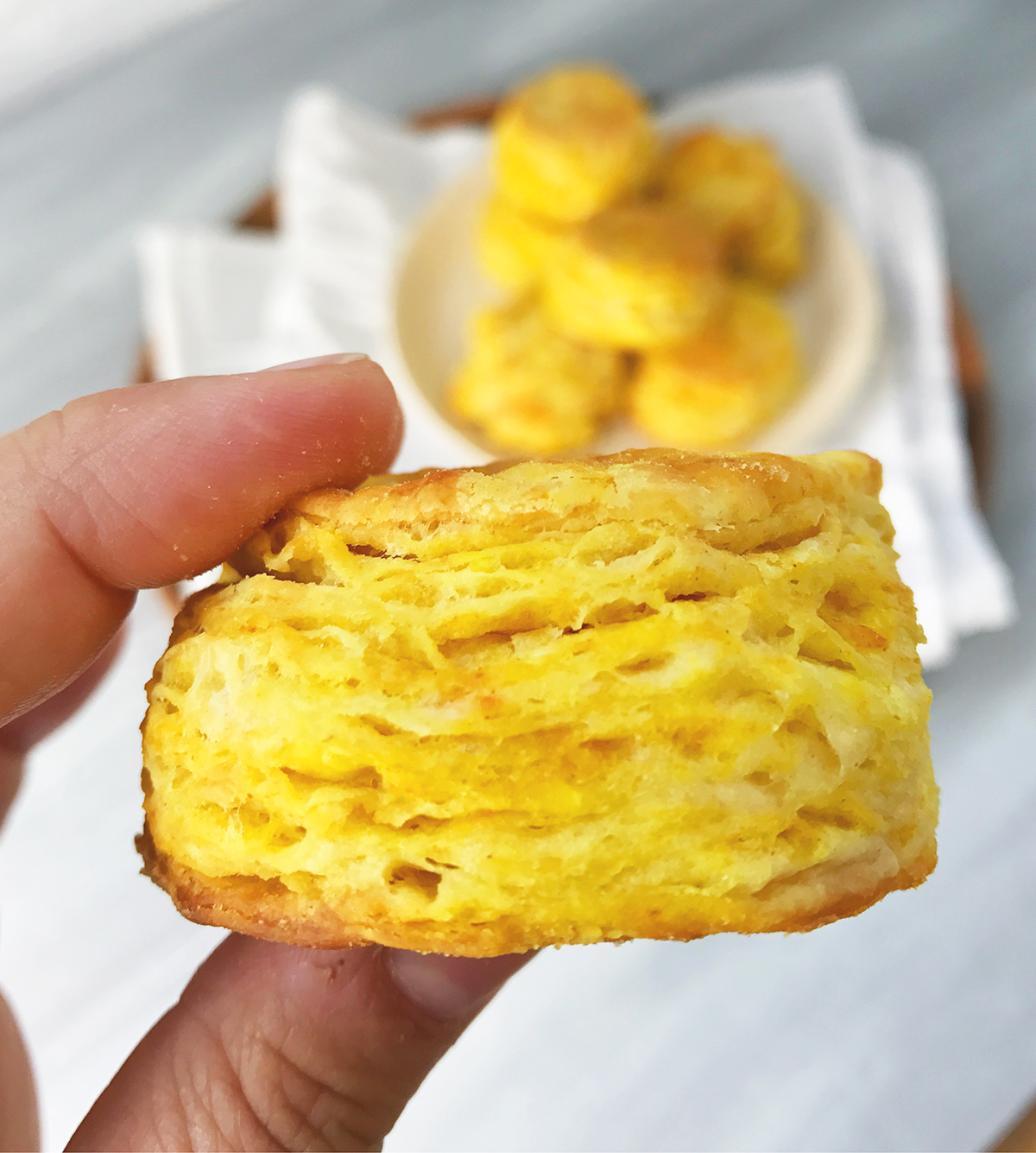 I really recommend reading the recipe a couple times before jumping in, and to keep all the tips sprinkled throughout in mind. This is a solid recipe I'm sure you will like. I plan on testing some gluten free flours soon and see how they hold up. For now, Sam can't have my biscuits! (Haha, yes, I don't know what's wrong with me today). Thanks for putting up with my nuttiness.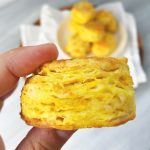 Best Biscuit Recipe with Turmeric
Print
Ingredients
2

cups

flour

4

tsp

baking powder

2

tsp

turmeric

3/4

tsp

salt

1

stick

butter, frozen

1

cup

buttermilk, chilled
Instructions
Preheat oven to 450 degrees Fahrenheit.

In a large bowl, combine the flour, baking powder, turmeric and salt.

Using a box grater, shred the frozen butter onto a plate. Work quickly so it doesn't melt. Once done, sprinkle the butter lightly over the bowl into the flour mix.

Mix gently to incorporate the butter evenly, then make a well in the center.

Pour the chilled buttermilk into the center, and mix gently (around 15 times) until the dough comes together. It will be messy and sticky at this point. Put it in the freezer for 10 minutes.

Put the dough on a floured surface. Dust your rolling pin with flour, as well as the top of the dough. Lightly roll it out (keep it at least 0.5 inches thick). Then fold it over, and repeat 4 times. The dough should be kept at around 1 inch thick.

Using a 2 inch biscuit cutter, you will cut out the biscuits and put them on parchment paper over a baking sheet. Make sure they are touching on the sheet. **Please note to do the following to ensure your biscuits rise properly. Dust the biscuit cutter with flour before each biscuit & DO NOT TWIST the cutter, it will seal the edges. Push straight down, no twisting.

Reform the remaining dough, and cut out the rest. These won't be fluffy as the first batch, but they will be just as delicious.

Pop into the oven until golden, around 15-20 min.
Recipe Notes

Optional: Brush melted butter on top of the biscuits when done.

Optional:  Add a 1/4 teaspoon baking soda the dry mix for sky high biscuits! I prefer the taste without it, and the biscuits will still be fluffy just not as tall.
Key steps to ensuring a fluffy biscuit:
- Always use frozen butter, that's what makes it flaky.
- When cutting the biscuits push straight down, do not twist, it will seal the edges.
- The biscuits should be touching in the pan, they will help each other rise.