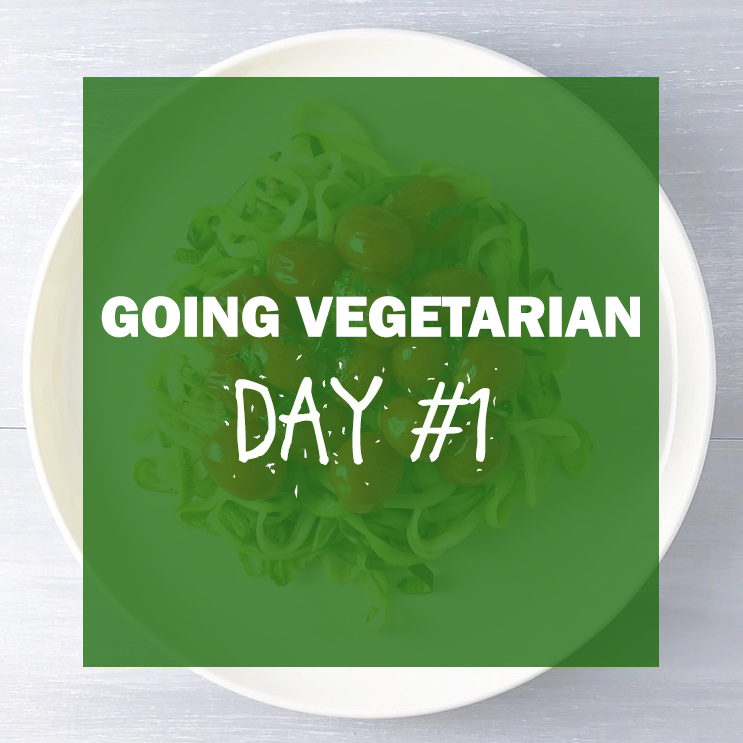 This is Day 1 of going vegetarian. I'm calling it the #veggie90 challenge. The obvious questions are why 90 days, and why the challenge? A 30 day challenge is just too short to me, because by the time you get used to the diet, and make it a habit, you are done. A 60 day challenge would take that a step forward, but a 90 day challenge is the real deal! I mean, you really have to live it for a good portion of the year. That's commitment, and will really allow you to learn about the lifestyle & get more of the health benefits. Which brings me to why? The usual applies. Eat healthier, feel healthier, be healthier. Some weight loss would be an added bonus, but more than anything I want to feel light and energetic. No longer just fueled by caffeine, but fueled by plants!
Also, I feel like there is a misconception about being a vegetarian. It doesn't mean you only eat salads and steamed veggies all day. I want to show you how to make meals that are so delicious, you won't even miss the meat. I ask you to join me or at least try it for 1 week. If you find that hard, then do 2 out of 3 vegetarian meals a day instead. Baby steps! One big thing I will be watching out for is not using carbs as a crutch. So bread, pasta, rice, & potatoes will be limited. I'm not saying I won't eat them, but in moderation. I thought about going vegan, but for me, no yogurt, cheese or eggs would really demoralized me. I will be limiting fatty foods in general as well, like as much as I want to stuff my face in grilled cheese sandwiches, it would be an opposite departure of what I'm trying to do. This is about making daily conscious choices on what to eat, and what not to eat.
I know it won't be a cake walk, this is very much a challenge for me to keep things creative, and to fight off those chicken shawarma cravings (most people might crave a cheeseburger, for me it's always a chicken shawarma fattoush with lots of garlic sauce). For Sam, this is nothing, he went mostly vegan & gluten free a few months ago (he has salmon once per week & has eggs a couple times a week).
So, here we go, day numero uno! You can also follow me on Instagram (@starteatingorganic) where my daily stories will showcase more of the actual cooking.
One big huge disclaimer, since I am going to be doing these daily, I am not going to be able to do much styling or "nice photography". These posts & pictures are going to be me, straight and real. This is what I eat looks like without being prettified. So, please remember, even though we eat with our eyes first, things will taste better than what they look like. I will try to get better as I go, but trying to do life, and take pictures, and record stories & get dinner on the plate as efficiently as possible, means something has to give, and it will probably mean the photos. Also, I use eco-friendly compostable paper plates daily, so you may see some of those as well 🙂
BREAKFAST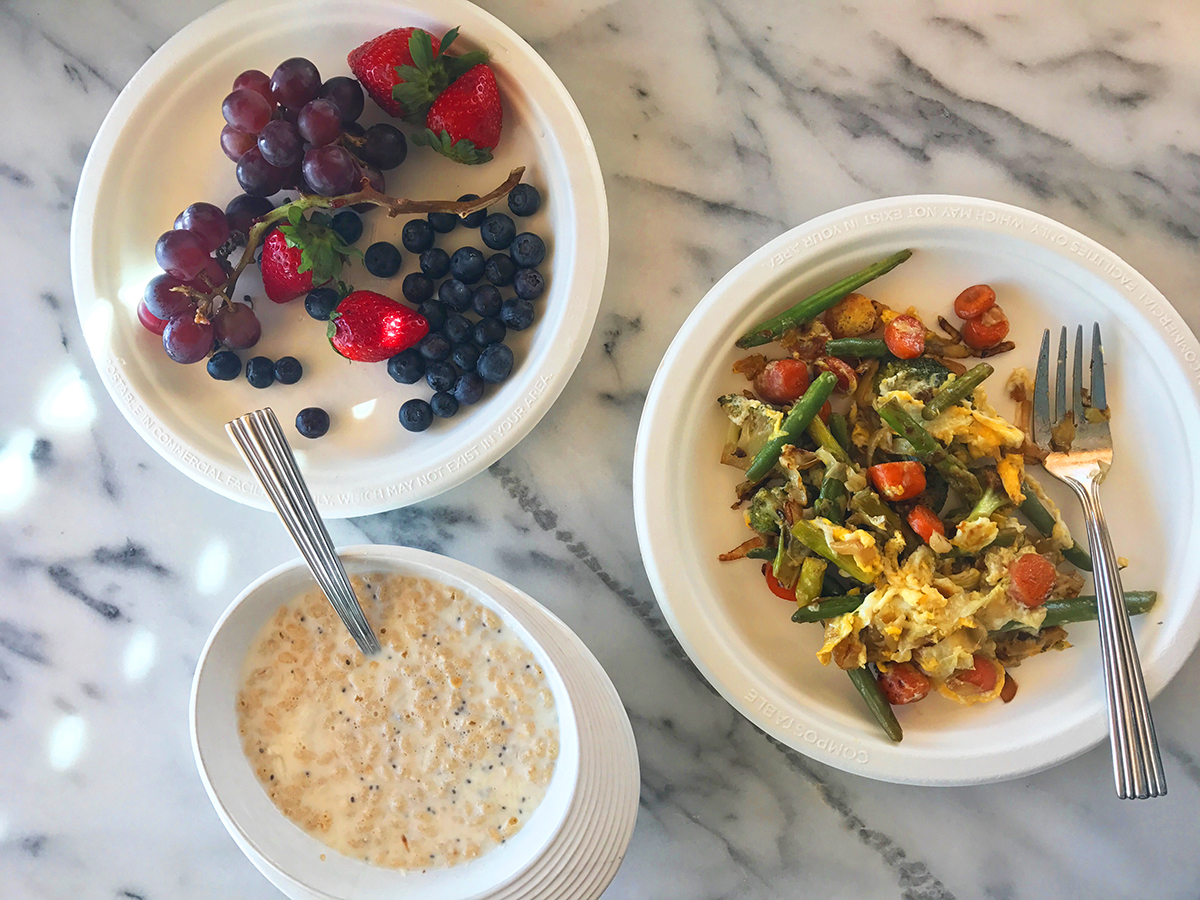 I am obsessed (not an overstatement), with Nature's Path Coconut Chia Granola. I eat it over yogurt most days, but today I had it with plaint old milk. Chia seeds are a super-food, and boost your energy and are loaded with fiber, protein, Omega-3 fatty acids.
For Sam, I had leftover veggie stir-fry (beans, broccoli, carrots, cabbage) that I heated up and tossed an egg in with it. Quick & easy scramble! The veggies have a lot of fiber and will help keep him full since he wasn't having any bread with it.
A plate of fruit I munched on slowly.
LATE LUNCH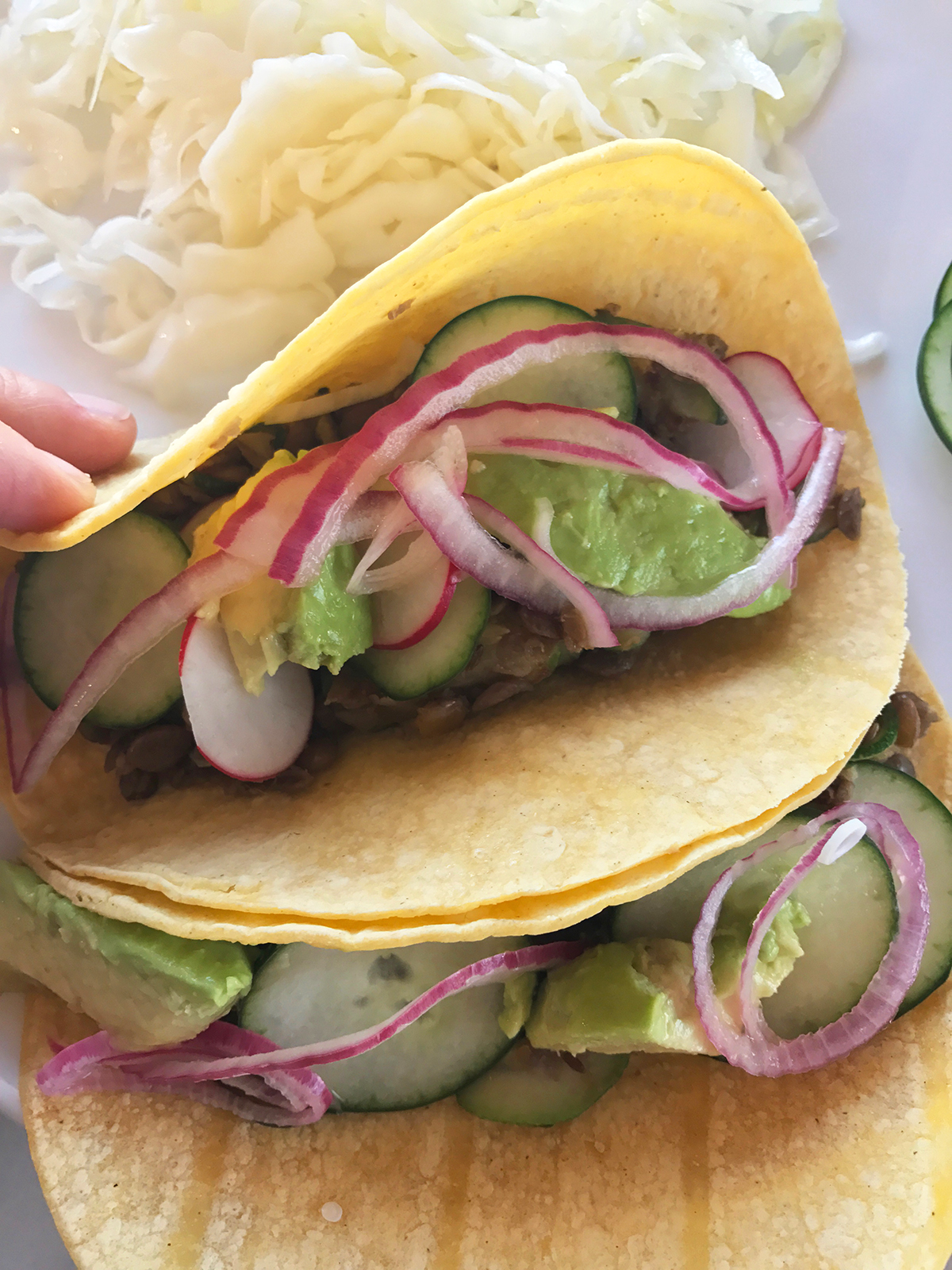 It may not look like much, but oh boy were these good! Vegan Lentil Tacos
Sautee veggies you have on hand, anything works, I used squash, asparagus onions & garlic, then add cooked lentils. Add all your Mexican spices (cumin, chili, paprika etc…) like you would to meat, let it all cook and marinade. Serve over gluten free corn tortillas.
Toppings: quick pickled onion (red onion, 1/2 cup cider vinegar, 1/2 cup water), avocado, cucumber, & radishes. Don't skip the onions it makes all the difference.
Salad: shredded cabbage slaw. Shredded cabbage, lemon, garlic, olive oil.
DINNER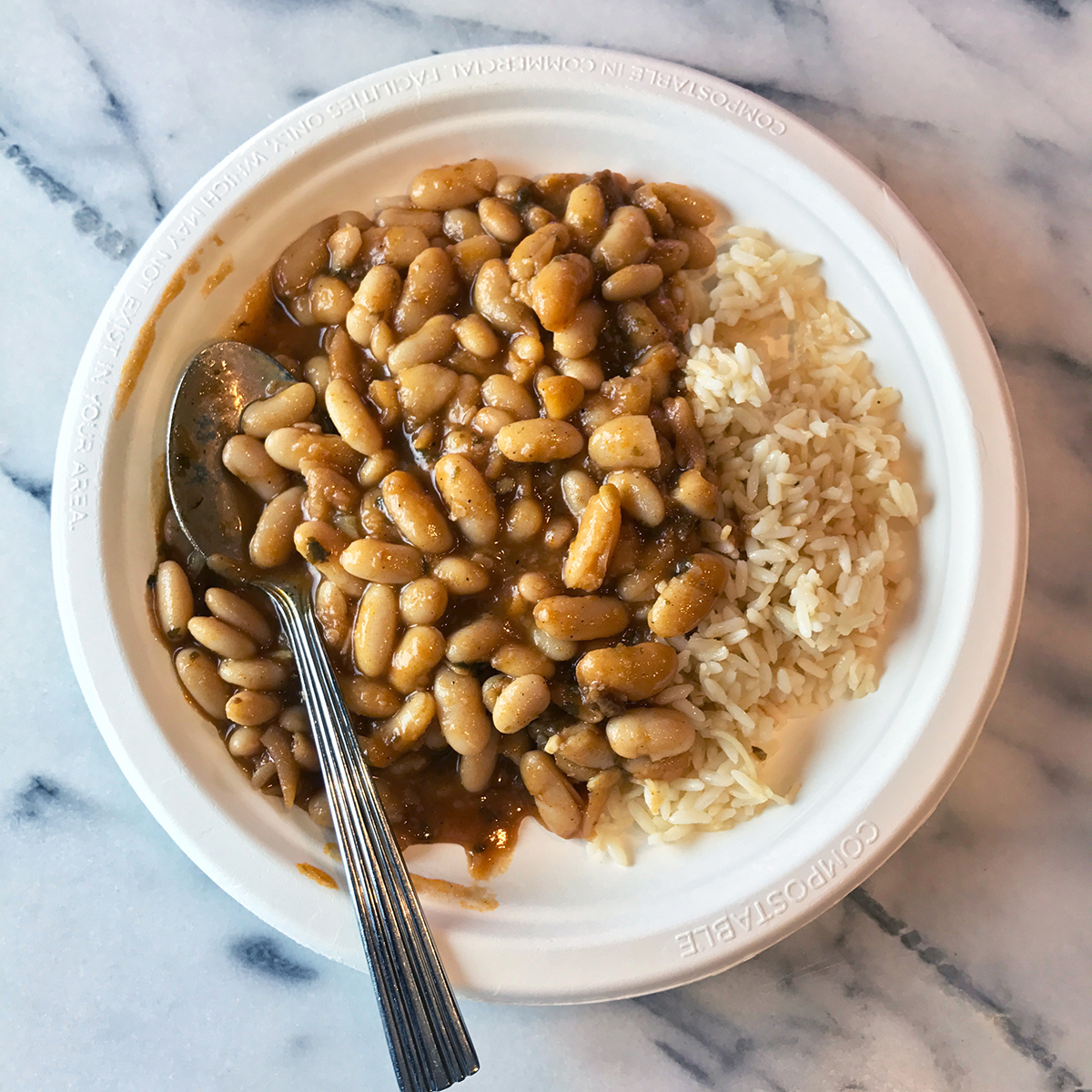 Bean stew with rice. Beans, garlic, tomato sauce, cilantro, spices.
SNACKS
I try to indulge my cravings, but in a controlled way. When I feel like something sweet, I always have dates and quality dark chocolate bars on hand. Fruit is great. Granola bars. Nuts. Some crackers and hummus. Baked chips.
TAKEAWAYS
Cabbage so important and so beneficial to our health. It is full of anti-cancer & anti-inflammatory properties. Google it, and see how awesome it is. Not to mention, it's very filling & will keep you satiated for hours.
Have cooked lentils, quinoa or chickpeas on hand always in the fridge. They make for a quick meal heated up with a tomato cucumber salad & they can be added transformed into dishes like this from today.
When making stir-fries, make extra veggies that you can have on hand to toss into omelettes.
Eat good fats like avocado, peanut butter, eggs, nuts etc..
Make stews with enough leftovers that can be reheated so when hunger hits, you have something easy and satisfying on hand.
If you can't tell I love leftovers! My hunger tends to strike fast so having something to easily access (other than my junk food cabinet) can be a lifesaver.
So, what do you think? Want to give it a go with me? Stay tuned for tomorrow and don't forget to follow me on Instagram (@starteatingorganic).