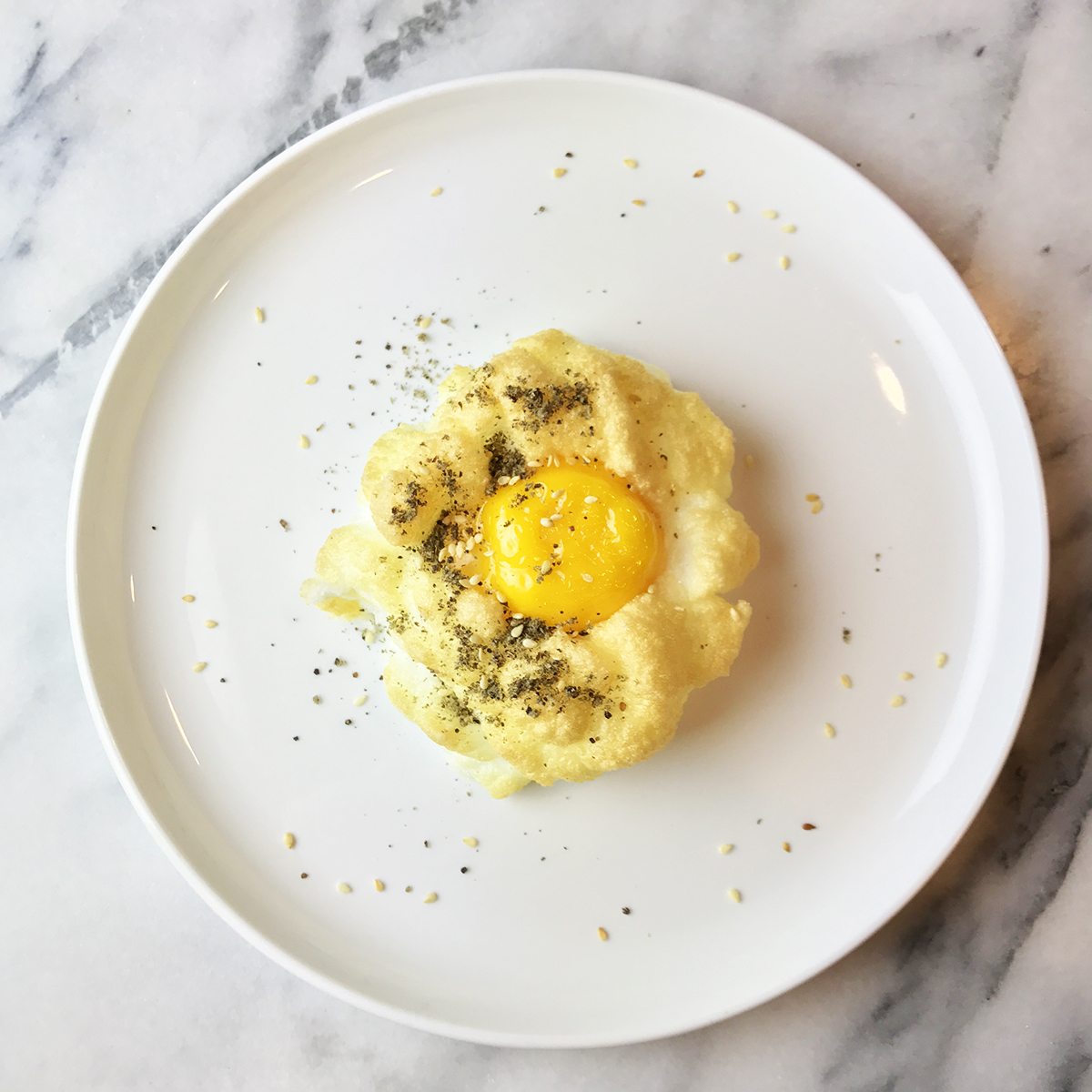 If you google "eggs in clouds", "cloud eggs recipe" or anything of the like you will see one new recipe after another on the daily. I mean even this post is another drop into that bucket. It's not a new recipe or idea by any means, but thanks to a little thing called Instagram, it's become a food trend. Naturally, I wanted to try it. I mean, they look cool, it sounds cool, it seemed easy enough so it must taste good too. Right? Wrong.
I checked out some recipes online and loosely jotted down some things to try. First off, I am not proud of this, but I think I wasted 5 eggs making these. It makes me sad. For some reason, I kept breaking the yolk lol, and I was being ambitious and wanted to make one of those Tasty style videos, you know the over head ones, and it was just a complete disaster and a waste of an hour lol…and 5 eggs. Oh, and imagine me trying to hand whip the whites thinking I was superwoman or something. My arm almost fell off and I was no where near having a whipped product.
This is supposed to be an easy process…a simple one, and it eventually was, after I worked out all the kinks.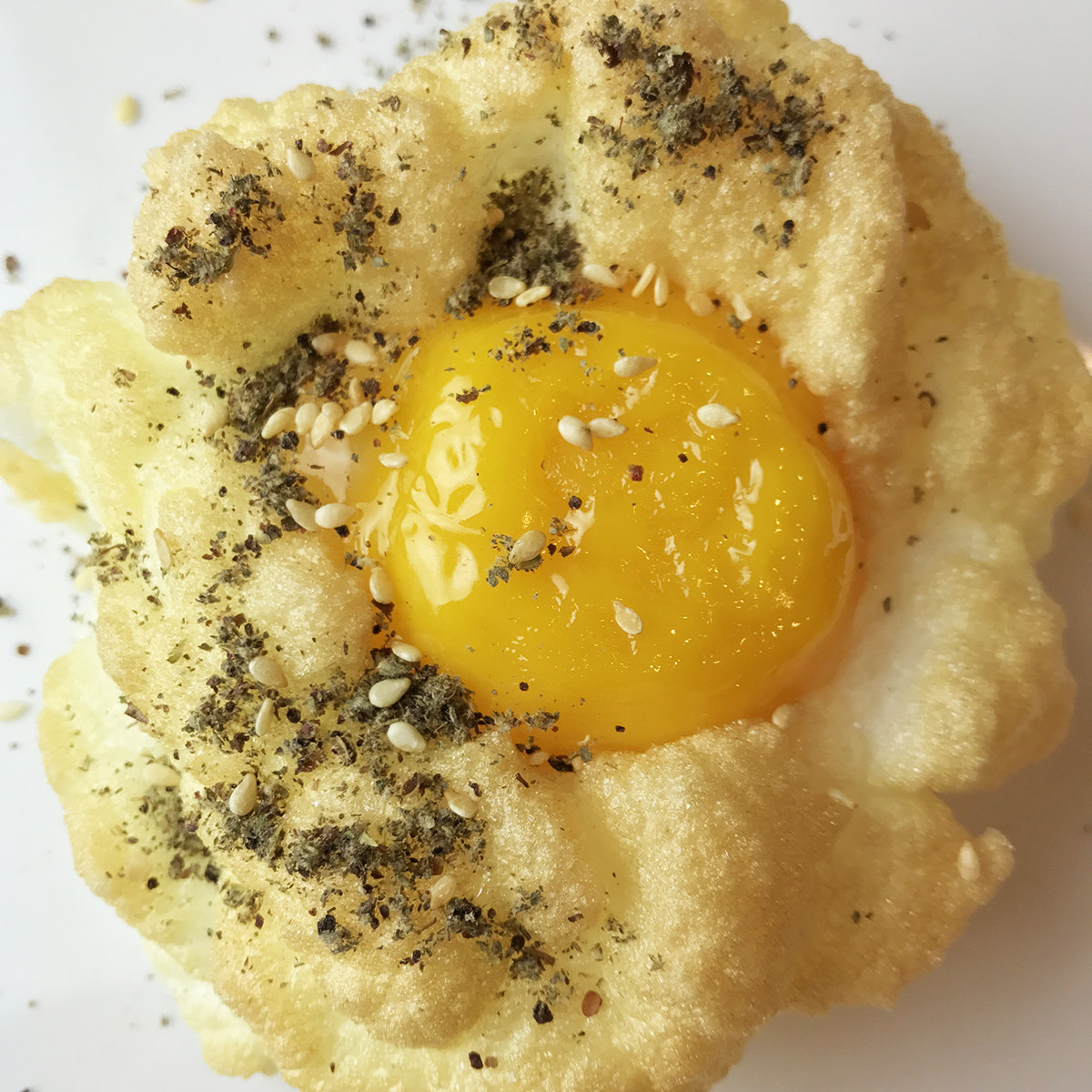 So, finally I had correctly separated the egg yolks from the whites. I don't have a hand mixer so I used my Kitchen Aid mixer to whip the whites until they formed fluffy stiff peaks (which was also too much to have to pull out and wash after for a couple measly eggs, but all in the name of a recipe, right?)
I spooned a couple mounds, then added turmeric and black pepper to the rest, and formed two more.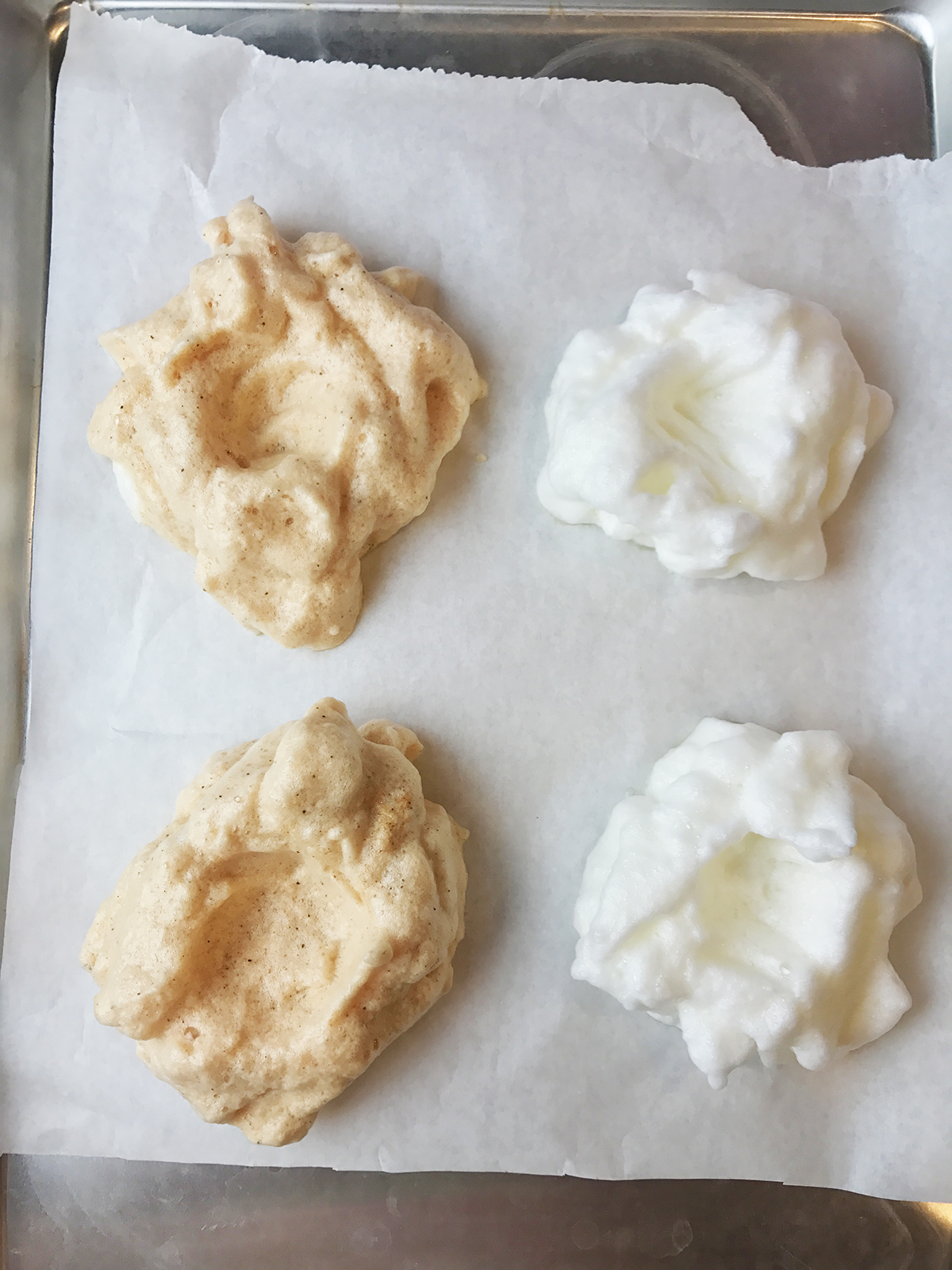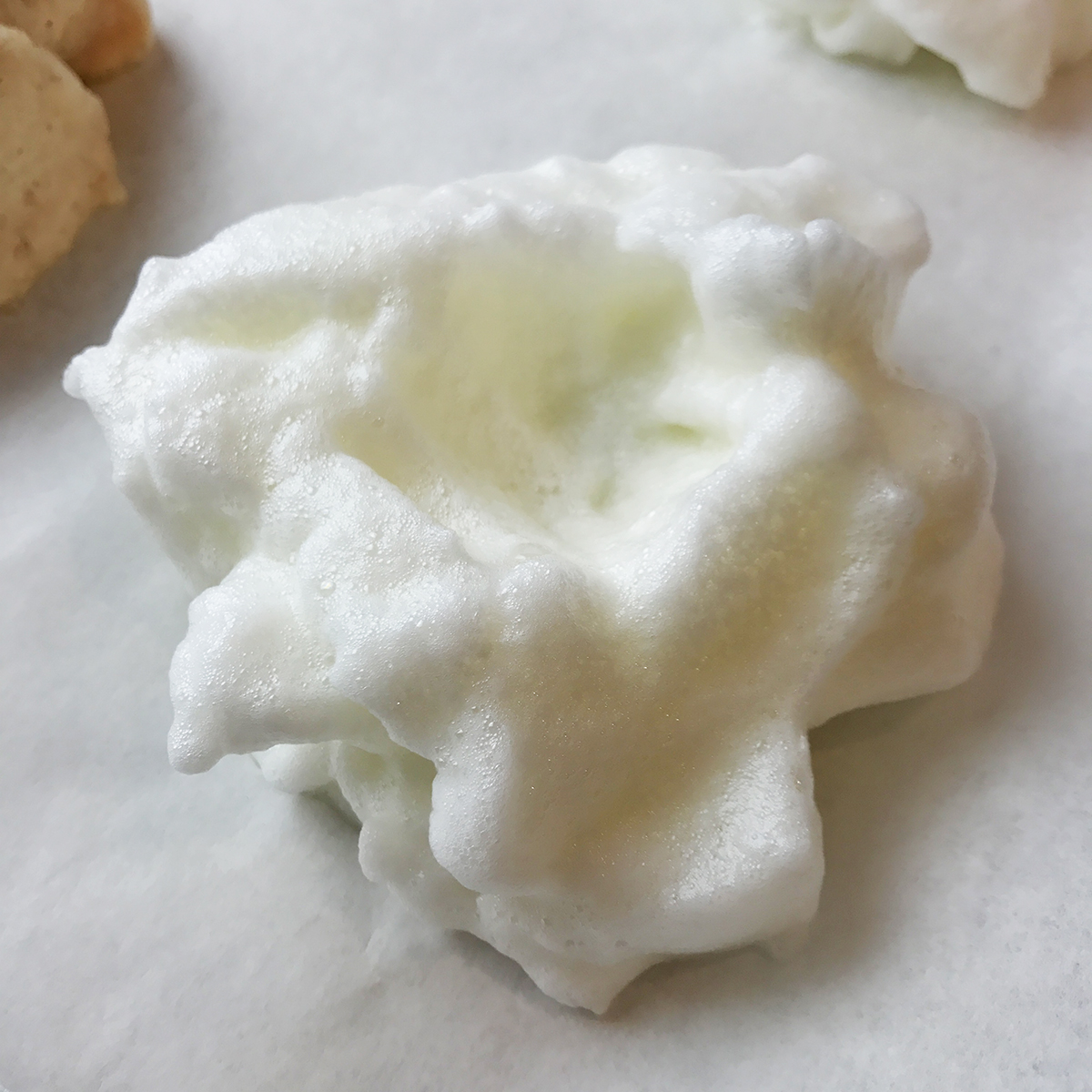 You bake them for a bit, then pull them out, add the yolks and bake for another few minutes. The whites will start getting golden and that's what you want.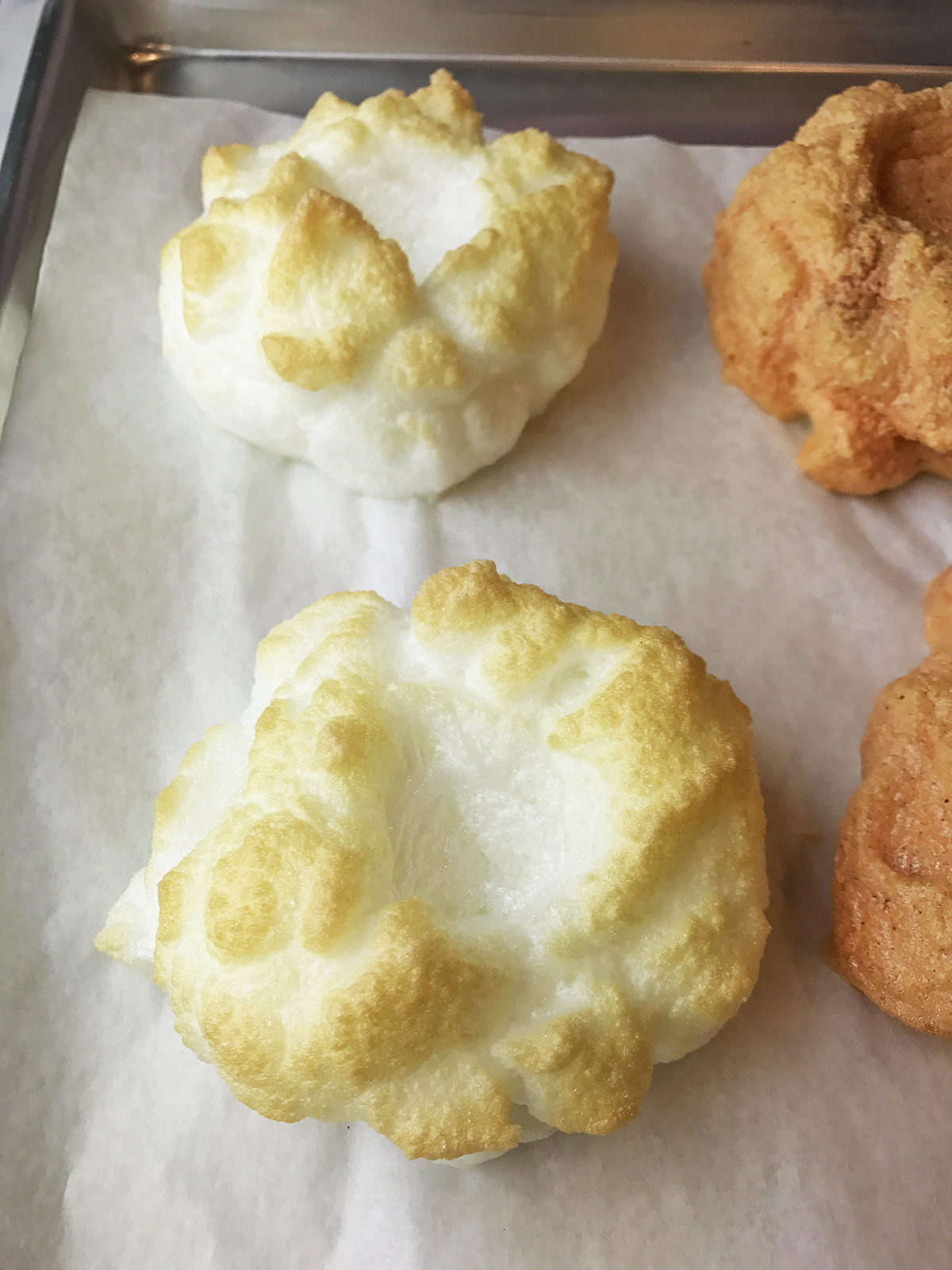 I added the yolks without a hitch and popped them back in the oven. I was feeling quite proud of myself. They were looking like clouds. Jeez, I was ahead on a food trend huh, and soon I could post about it. Isn't that what most IGers try to do? Well, let me tell you how fast my internal cloud deflated once I tasted them.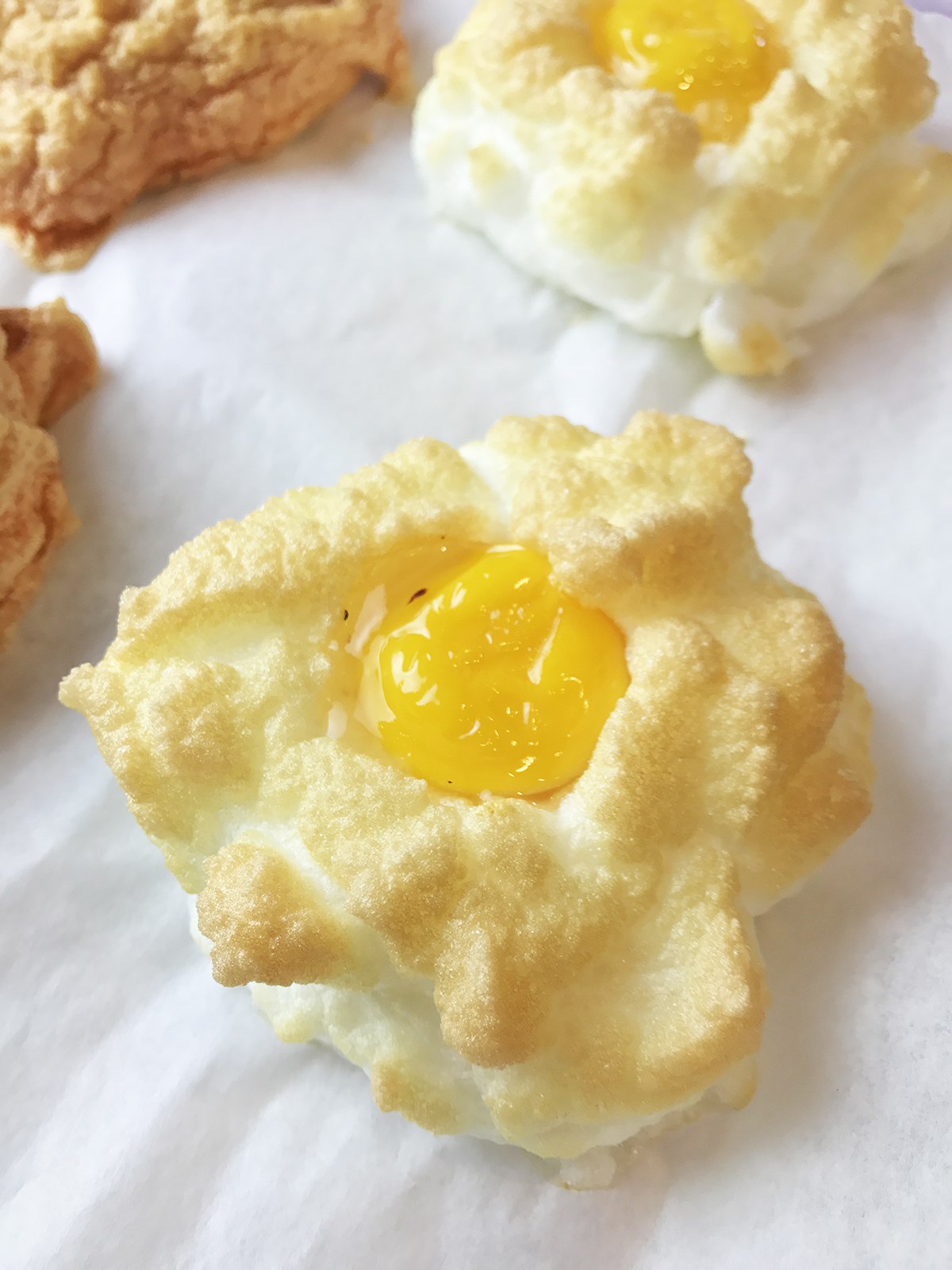 I poked one gingerly at first, ok, crispy bits on the outside, a little softer on the inside. I pop a bit of it in my mouth and chew. Nothing. Texture is a little unpleasant actually. So I pop the yolk and try eating it with it. Now everything tastes like egg yolk but it's still not that great. So, I add some zaatar thinking it needs more seasoning, then everything tasted like zaatar and egg yolk and I still couldn't bring myself to like it. Oh, the horror. How am I going to Instagram this when I hate it?
I figure it's just me…doubting myself, as I always do, when my gut always points to true North. I ask Sam to try it, and he confirms my first thought: It tastes like nothing. It's like eating Styrofoam. Ugh. I felt deflated. I just spent hours and some very expensive eggs trying to replicate a food trend and it missed all the marks except for being visually appealing. But then I realized, I must prevent more poor eggs being wasted. So, here I am, pleading with you, don't try these. They suck. It's not that my recipe sucks, no, you will get a perfect cloud egg following it. It's that CLOUD EGGS SUCK. There I said it. If you really REALLY are dying to try it for yourself, my eggs in clouds recipe is below. I would really want to know what you guys think. Have you tried them and did you love or hate them? I feel like they are so not worth the effort. Yes, they look pretty, but some olive oil fried eggs taste like heaven to me.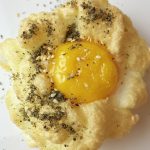 Cloud Eggs Recipe
Print
Ingredients
4

eggs

salt to taste

spices optional
Instructions
Preheat the oven to 450 degrees Fahrenheit.

Carefully separate the yolks from the egg whites. Place each yolk in a small bowl so they are easier to handle.

Put the whites with a sprinkle of salt in a mixing bowl. Using a mixer, beat the egg whites until they become fluffy and stiff peaks form. You should be able to flip over the bowl with the mixture staying in place. You can fold in other optional ingredients at this point like Parmesan cheese.

Put parchment paper on a baking sheet. Carefully spoon the mixture evenly into four mounds. Make a dent in the middle of each one (this is where the yolk will go later).

Bake the egg whites for 3 minutes, then pull them out and carefully add an egg yolk to each one and bake for another 3-4 minutes. If you are not a fan of runny eggs, then add the yolks from the beginning and bake for 6 minutes.

Pull them out and using a metal spatula carefully scoop each one from the bottom onto a plate. Enjoy!
Recipe Notes
Do not try to whip these by hand, yeah I tried and it was bad.
I find these can tend to be bland so spice it up with paprika, zaatar or anything you like.