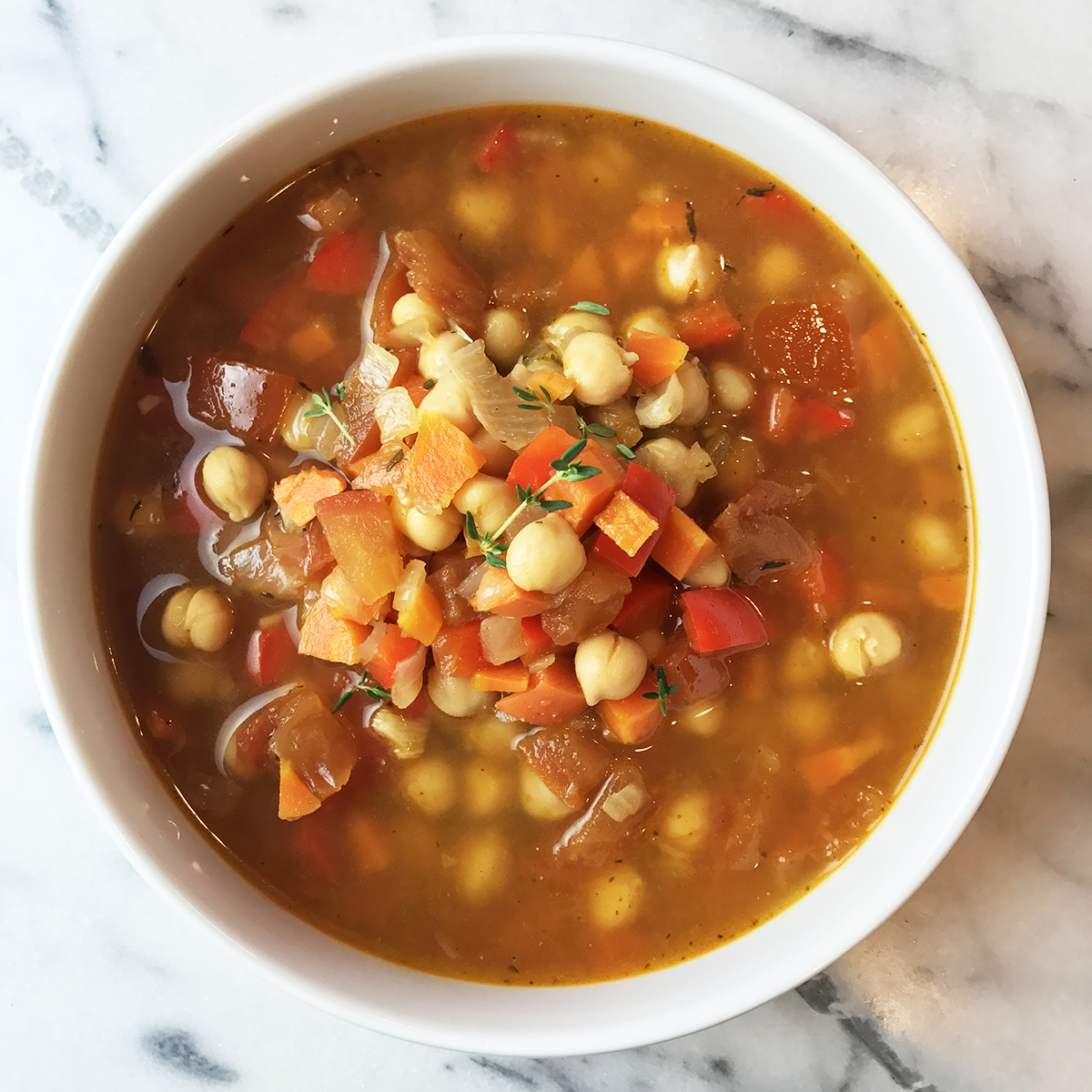 I love soup. In the winter, on those cold days I love thick and creamy soups, rich with cream and cheese (hello broccoli cheddar). But, just because winter is over doesn't mean we can't make soup, am I right? When spring rolls around, all I want is light airy soup, full of vegetables. Nothing heavy, no cream, no cheese, just a simple aromatic delicious broth with fresh veggies. That's why you will love this chickpea soup recipe. Not only is it easy, but it is delicious simply warm or even chilled. Move over gazpacho, there's a new chilled soup in town!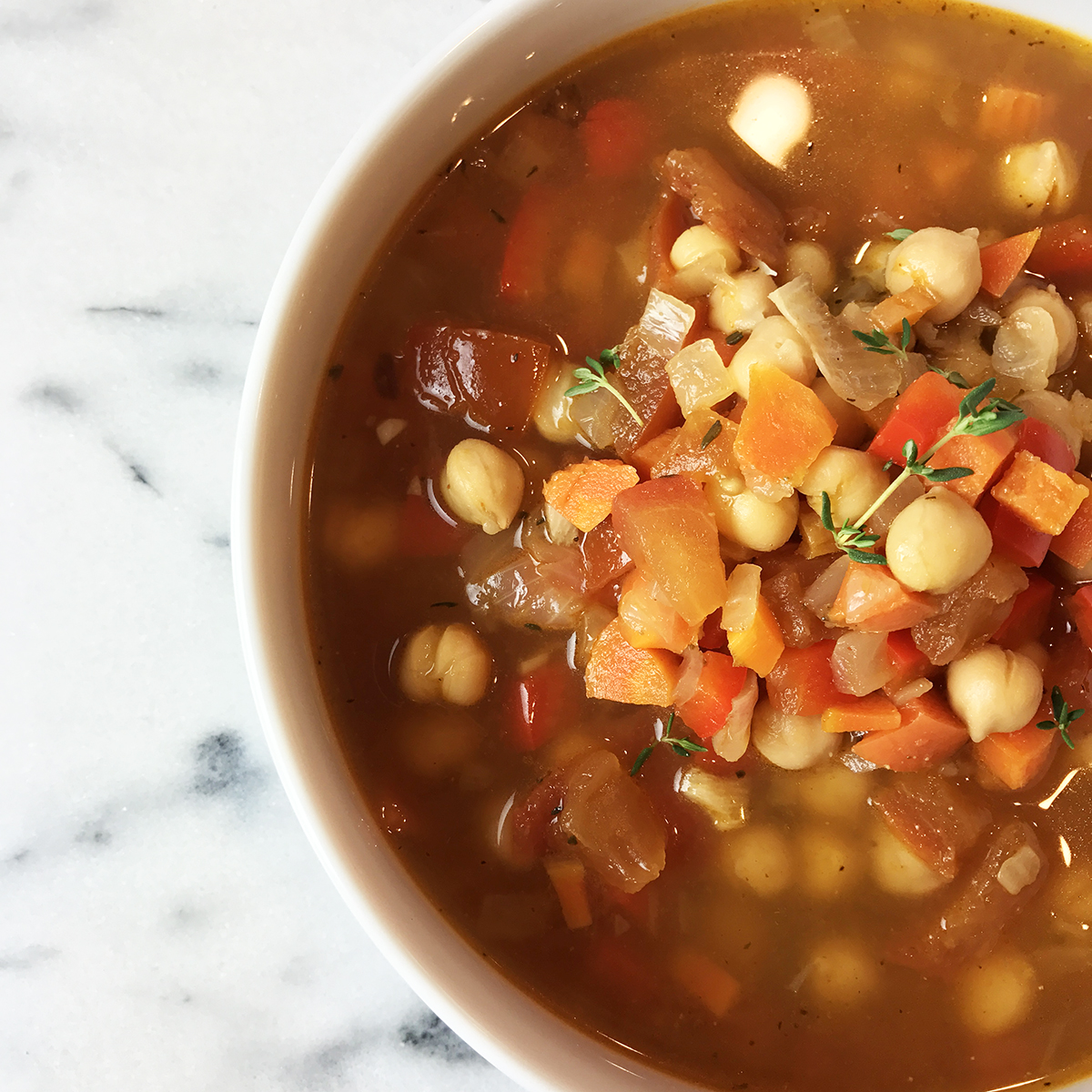 In addition to all the veggies, chickpeas make this a filling soup, full of  fiber and protein. Plus I feel like alot of people don't use chickpeas in soup, so its a bit of an unexpected surprise. Chickpea soup has to be a thing, I mean it's a no brainer! Not to mention its so low maintenance, no heating required really. Take it for lunch and eat it as is. Plus the flavors in this recipe are addicting. So much punch from the peppers & tomato. It tastes so familiar yet completely new, like all the best things in life.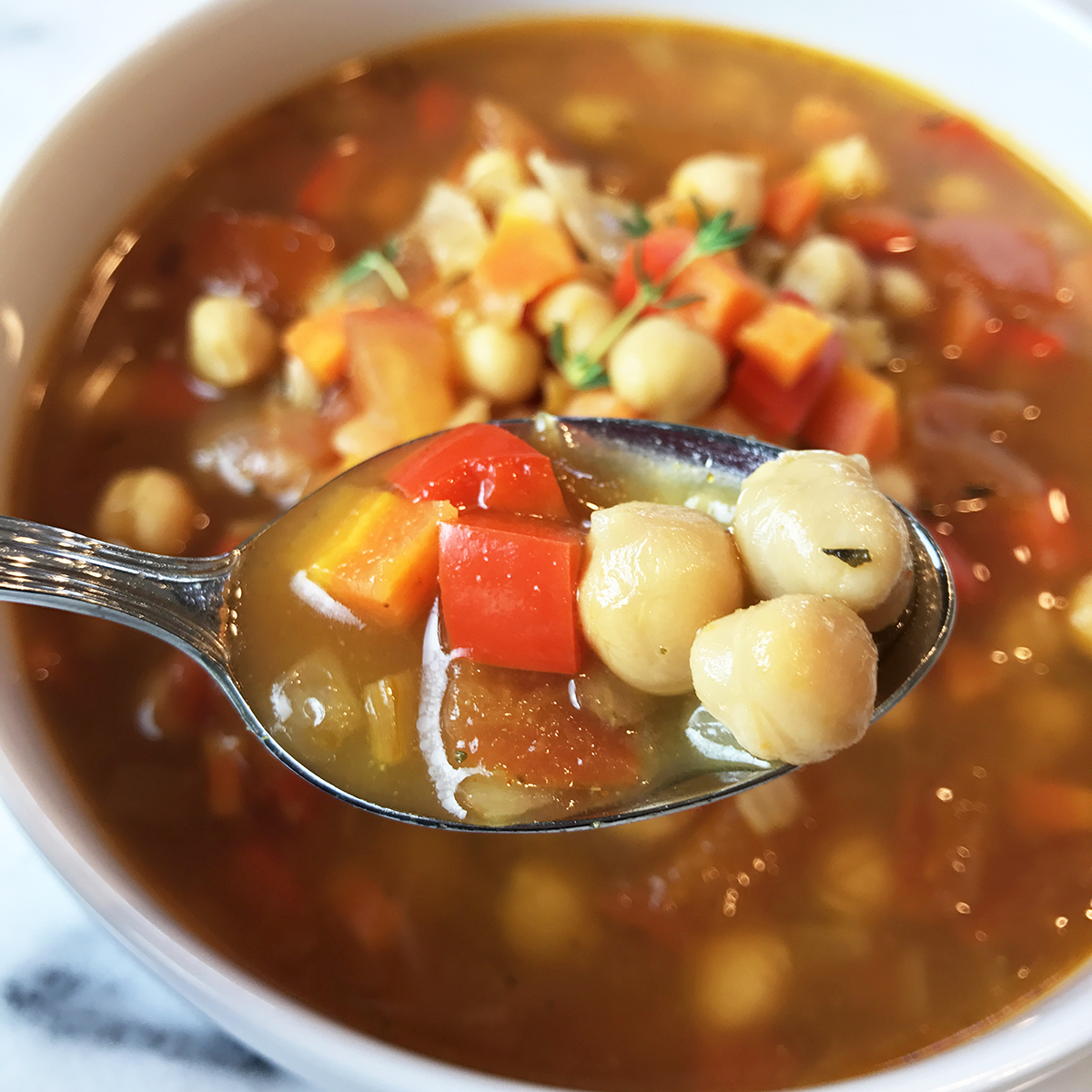 The most effort in this recipe goes into chopping the veggies. Other than that, you can mostly pull it all together and forget it. Most of my cooking follows the less is more, simpler is better strategy. Healthy delicious cooking shouldn't take hours. Here and there you need to put in some time to create a meal, but having easy soup recipes like this on hand make dinner that much easier, and I'll definitely take it!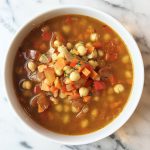 Chickpea Soup Recipe
Print
Ingredients
1

can

chickpeas

1

cup

onion, chopped

1

cup

carrot, chopped

3

cloves

garlic

1/2

cup

tomato, chopped

1/2

cup

red pepper, chopped

1

32oz

broth

1

tsp

cumin

1/2

tsp

paprika

1/4

tsp

thyme

1/2

lime, juiced

1

tbsp

oil

salt to taste
Instructions
In a medium pot, heat the oil over medium high heat. Add the onion and cook until softened.

Then add the carrot and garlic, and cook until softened.

Add everything else except for the lime juice, and bring to a simmer for 15-20 min.

When done, take off the heat, and add the lime juice. Let the soup chill and enjoy warm or cold!