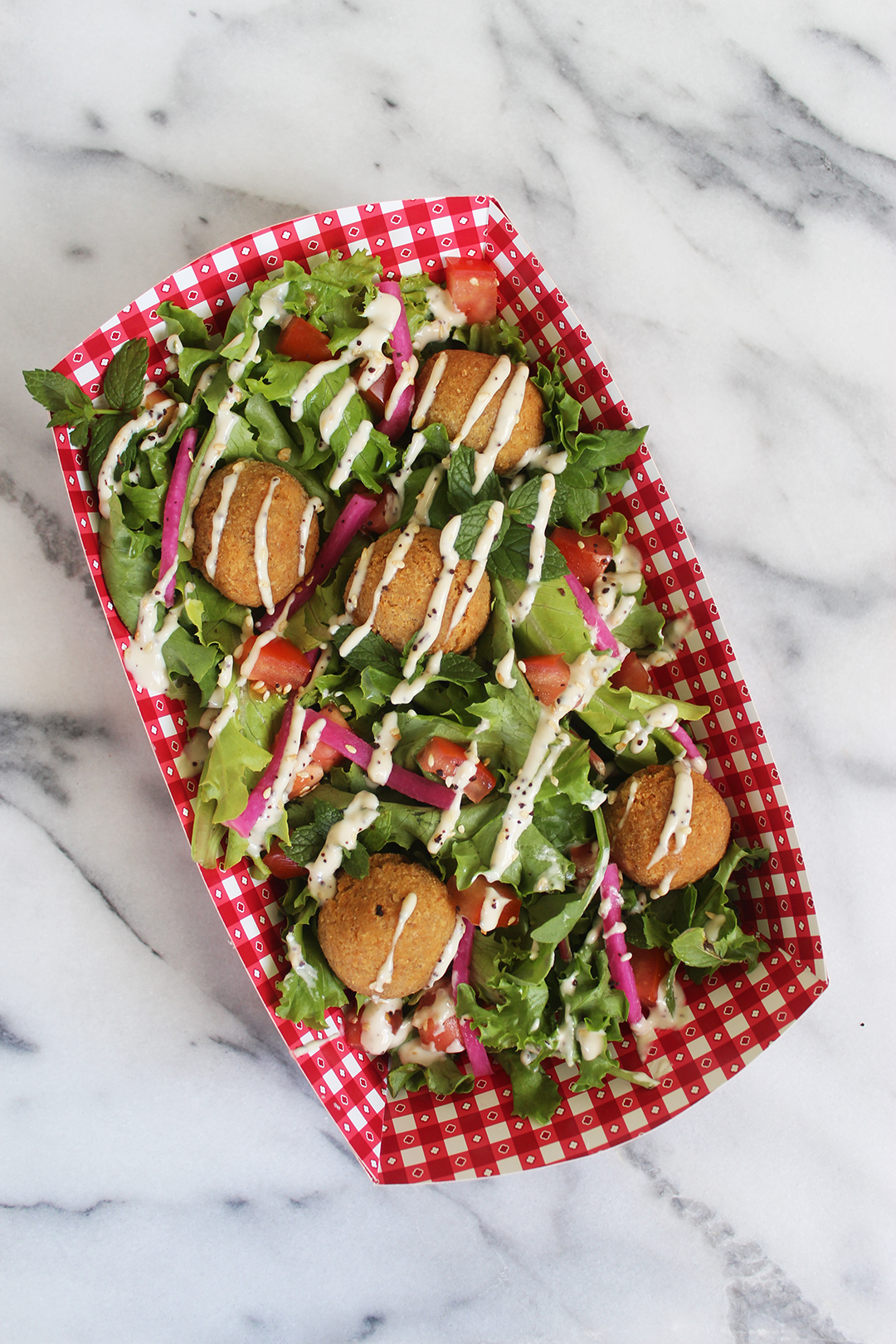 There is a universal love for hummus, and I believe the same goes for falafel, so why not stuffed falafel. You could never be my friend if you did not have absolute love for both. My friends know I'm weird, most of the time good weird (I think?)…but occasionally out of my weirdness, and my sometimes ambitious plans, comes something that makes so much sense you wonder how it's not already a thing.
I am still trying to perfect my falafel recipe. Don't get me wrong, it's pretty good, but I want it to be as delicious as the sandwiches you buy off some rickety street cart. Just, simple, good, crunchy and most importantly light.
The hubs loves falafel, and this is always his one request for me to "prefect". I've made healthy falafel, he didn't like them. I've made baked falafel, he didn't like them. He just wants the plain ol' fried version, and I don't blame him. I think that's the one thing that has been holding my falafel back. Frying it. I am so adverse to frying things at home, I usually only leave it as a treat for when we are eating out (yes, I never fry anything at home, not even french fries).
Anyways, on one of my falafel testing days, I had a fresh batch of hummus in the fridge, and it hit me. Why not stuff the falafel with hummus? So, I started thinking. How am I going to do this? Pipe it in after frying, similar to how they do donuts? It didn't feel right, because it would also leave a mark on the outside of the falafel. No, the hummus had to be in there from the start. But how? Hummus is too liquidy. So, I thought, why not freeze it? So you freeze it first in small disks, then form the falafel into a ball around it. Yes, that would work and it did! Check out the video below to show you how I did it.
Here is the process:
Spoon hummus onto wax paper or a silpat mat, and place it into the freezer for about 10 minutes.
Take your favorite falafel dough, and place a frozen hummus disk in the middle.
Form into a ball and fry until golden brown.
Very easy, and are surprisingly good. If the warm hummus is not for you, let them cool to room temperature then enjoy. Try serving these at your next party, but don't tell your guests, and watch their surprise as they bite into them.