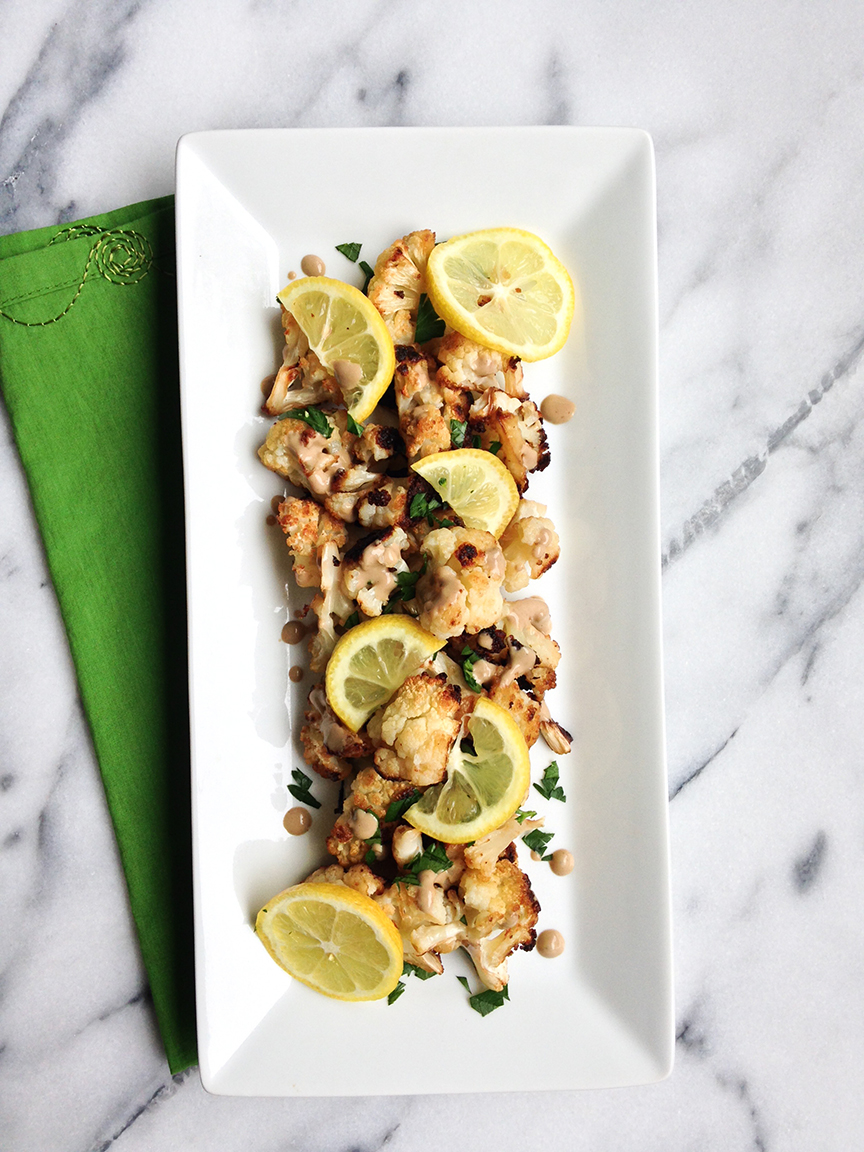 Roasted cauliflower is a family favorite, we make it weekly. It's delicious hot, and even better cold. Not to mention, the roasting brings out the sweetness, the crispy bits. I always make extra to make sandwiches with the next day, or to even throw in an omelette or salad.
Cauliflower has been getting alot of attention lately for it's anti-cancer properties. So many recipes across the web, everything from cauliflower rice to cauliflower sauce. I'm not surprised since it can take either be the star or it can support a dish without overwhelming the flavor.
Normally, I like it with lots of lemon and some tahini sauce, but, one day I subbed the lemon in the tahini with pomegranate molasses. Life changing. It's still tangy, but it has a deeper flavor and is so good, but you can't put your finger on it. Either drizzle it on top, or dunk that baby in there. Can't explain it, except that it's magic of course. Ok, let's do this!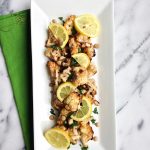 Easy Roasted Cauliflower Recipe
Print
Ingredients
Cauliflower
1

head

cauliflower

2

tbsp

cooking oil

salt to taste
Pomegranate Sauce
1

tbsp

tahini

1

tsp

pomegranate molasses

2

tbsp

water
Instructions
Roasting Cauliflower
Preheat oven to 375 Fahrenheit

Remove the base of the cauliflower, and cut up the rest into medium sized florets.

Place them into a sheet pan. Drizzle the oil over the florets, and mix to cover them. Make sure to spread out the florets so they aren't on top of each other. This lets them roast better (than just steam).

Salt to taste, then pop in the oven and cook for 50 minutes, making sure to flip the florets half way through so they don't burn.
Pomegranate Molasses
Put the tahini and molasses in a small bowl. Add 1 tbsp of water, and stir. It will seize up, this is normal.

Continue stirring and add the other tbsp, it will finally look like a sauce.
Recipe Notes
All cauliflower heads are different sizes. If the cauliflower is small, use two heads instead.
If needed, add more cooking oil as necessary. If you like the cauliflower crispier and don't mind the oil, then add more as well.