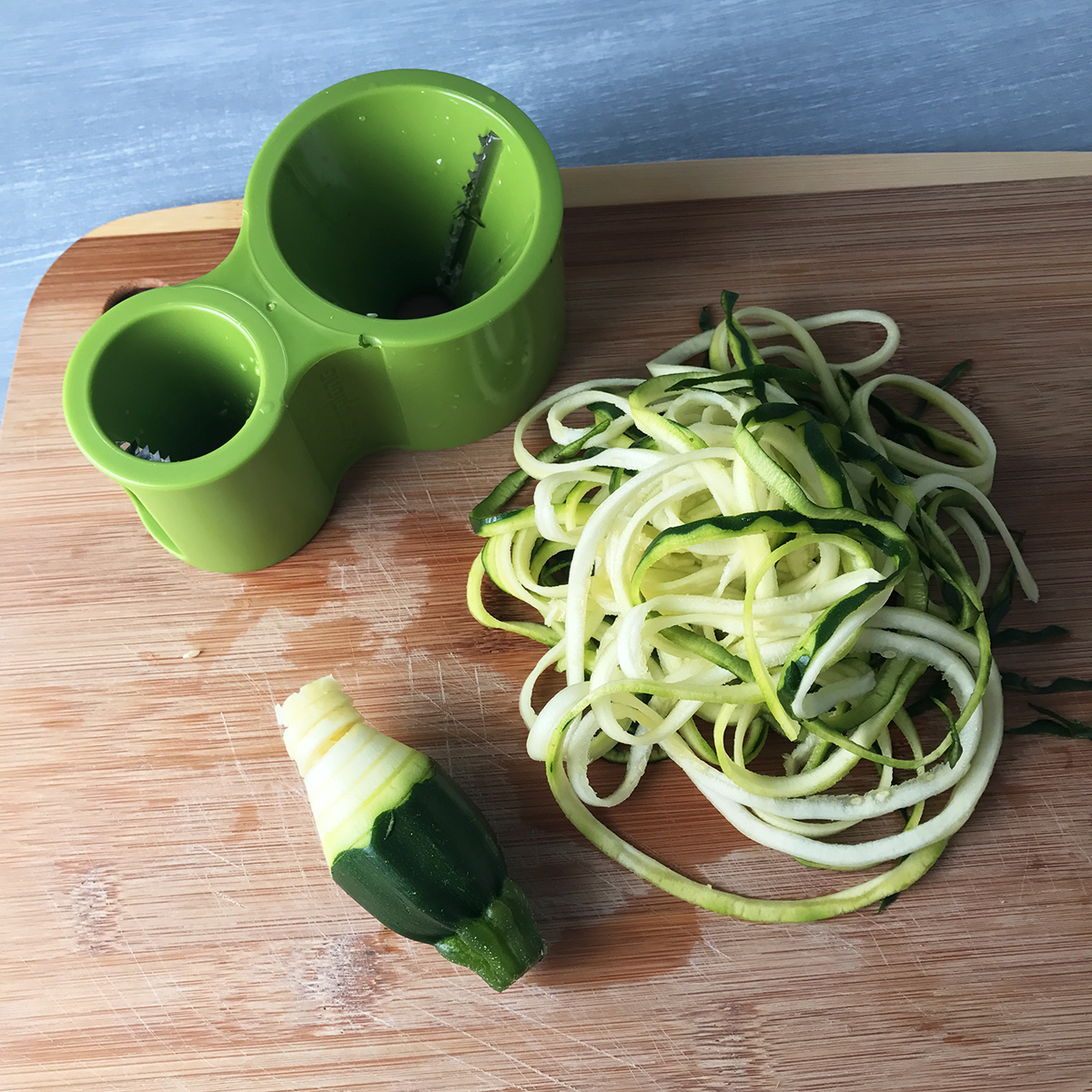 Zoodles? Don't you mean noodles? Nope, its what zucchini noodles are. Yes, noodles made from zucchini or squash. And I love me oodles of zoodles. So, how do you make zoodles? You make them using a spiralizer. It makes vegetables into thin spirals, hence the name.
There are many different spiralizers on the market, I try to save as much space as I can with my gadgets (they add up so fast, right?), so I went for a simple, small handheld type, the Microplane Spiral Cutter. It's easy to use, easy to clean, dishwasher safe and best of all, it doesn't take much room in my catch-all drawer.
Ok, so, back to the food. This zoodles recipe is so SO simple. The best part? It really does feel like your eating pasta, but at the same time, you can eat as much as you want without worrying about falling into a coma after.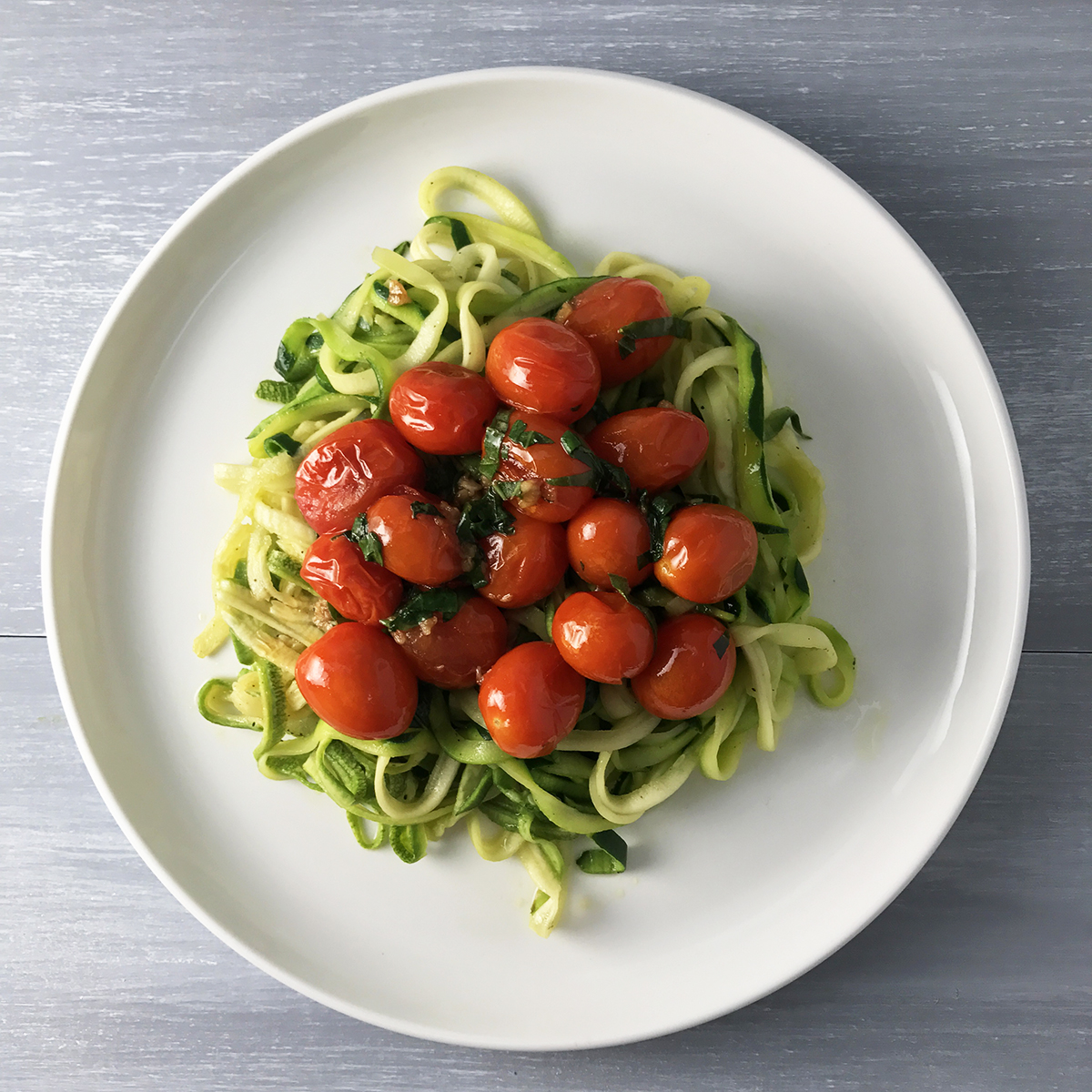 What makes this dish shine is the simple "sauce". The recipe calls for lots of garlic, and between that, the cherry tomatoes and the fresh basil, your house will smell heavenly! Not to mention, it really doesn't take long to pull this dish together, but your dinner guests won't know that.
What type of sauce would you use? I'm thinking coconut shrimp curry next time.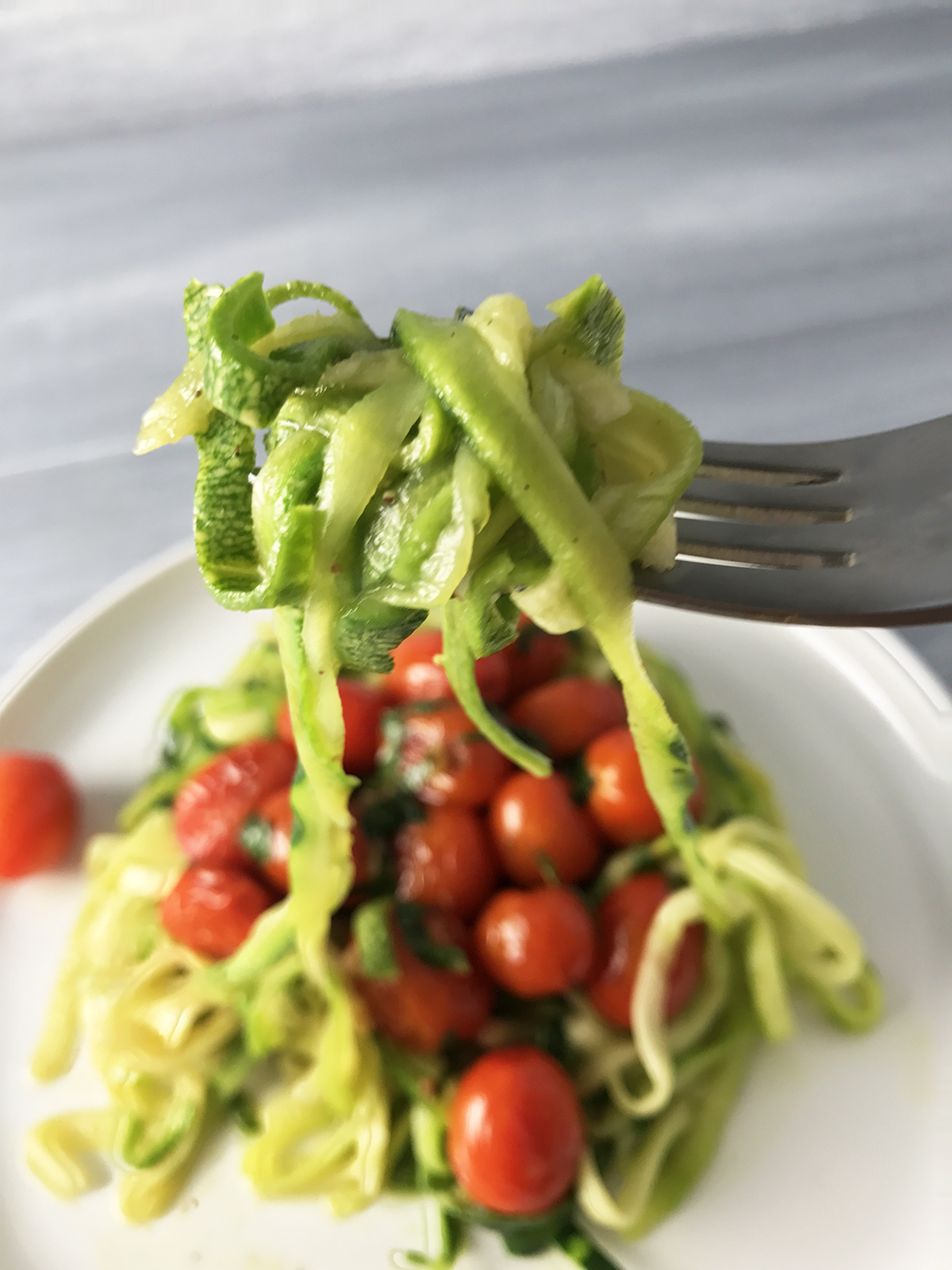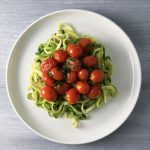 Spiralized Zucchini & Cherry Tomato Basil Sauce
Print
Ingredients
6

green squash or zucchini

1

pint

cherry tomatoes

4

cloves

garlic, smashed

3

tbsp

olive oil, divided

2

sprigs

fresh basil, chiffonade

salt & pepper to taste
Instructions
Noodles
Spiralize the squash/zucchini.

In a large pan, add 2 tbsp of olive oil, over medium heat. Once the oil heats, add the zoodles.

Add salt and pepper to taste.

After 1 minute flip the noodles once only, we don't want to over cook them.

Cook for another minute only. Noodles are done!
Tomato Sauce
In a pan, add 1 tbsp olive oil, and heat it up over medium heat.

Add the cherry tomatoes. Cook for 5 min or until the tomatoes start blistering and letting their juice out.

Add the garlic, salt and pepper. Stir & cook for another minute.

Add the fresh basil. Give it a stir, and the sauce is done.